Showcasing research through creative media forms

U of T's Centre for Research & Innovation Support debuts the Drawing Across the Disciplines Series with its Comics and Graphic Scholarly Works webinar, which explores the use of graphic narratives in disseminating research findings.
Drawing Across the Disciplines is a new series launched by U of T's Centre for Research & Innovation Support (CRIS). It explores options to showcase research findings through various media formats—including comics and podcasts—other than peer-reviewed journals. On March 9, 2023, from 10:30 a.m. to 12:00 p.m., CRIS held the series' first event, Comics and Graphic Scholarly Works, which outlined how research is being presented in the aforementioned media. The event featured Shelley Wall, an associate professor at the U of T Temerty Faculty of Medicine, and Ai Taniguchi, an assistant professor at the University of Toronto Mississauga's (UTM) Department of Language Studies.
The panel explored how comics and graphic narratives are being used to connect with a wider audience, and how scholars from various fields of study—including graphic medicine, creative writing, and linguistics—are integrating these media into their research showcases.
During an interview with The Medium, Dr. Elizabeth Parke, faculty programming development officer at CRIS, highlights that the Comics and Graphic Scholarly Works webinar invited U of T faculty researchers and welcomed early career researchers—including those at the undergraduate and graduate level—to have insightful conversations with each other. All U of T students can watch the webinar's recording through the library website.
Dr. Parke sheds light on how the idea of creating the Drawing Across the Disciplines series came into fruition, explaining, "The Drawing Across the Disciplines series [came] to us starting with comics because of the great coincidence of CRIS being in the library." The Gerstein Library contains various forms of print media, which combined with CRIS's goal of publishing research, spurred the creation of this new series. While not all students may like comic books, CRIS hopes to explore more innovative ways to showcase research in the future, such as data visualizations.
"Ways for people to get research out into the world [to be] read and cited, [to impact] future science [and] future policy, are really important to us at CRIS," says Dr. Parke. "This is an opportunity to take that next step into a new series [so that we can] think about what it means to do comic work about your research."
Dr. Parke states that the Drawing Across the Disciplines series encourages students to "start to think about the research space" and gain a deeper understanding of this area. She advises students to "be open to seeing what's out there and maybe think [about] bringing together two strands of your interests." She gives the example of how one could combine their practice of photography into the research space.
There are many methods for students to engage with the world of research. "I would encourage everybody to check out the [CRIS] website and join the mailing letter," says Dr. Parke, encouraging interested students to register for upcoming events hosted by CRIS throughout the year. Additionally, research opportunity programs (ROP) and work study programs present opportunities for UTM students who are interested in conducting research. Most importantly, she emphasizes that students should never hesitate to ask questions—to both faculty and classmates—regarding research spaces.
As there are many research-related events and programs happening at UTM, Dr. Parke encourages students to subscribe to SURGE—the bi-monthly newsletter of UTM's Office of the Vice Principal Research—to stay informed of what is happening in UTM's research community. Additionally, she notes that, "The UTM library often runs programming particularly focused [on] undergraduate research and ROP support."
"I'm just really excited to be launching this new series and to have the opportunity to really showcase the incredible work that's happening from our faculty," concludes Dr. Parke.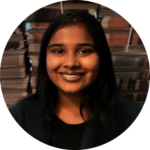 Staff Writer (Volume 49) — Angelina Jaya Siew is currently in her first year at UTM, seeking to specialize in Criminology, Law and Society and minor in French. After completing her secondary education in Trinidad and recently moving to Canada, she started writing for The Medium as a way to to highlight important global issues and encourage debate on controversial topics. When Angelina is not writing or studying, she is reading the latest mystery novel, travelling to different countries, or getting her almond milk vanilla latte at Starbucks.