The Undergraduate Research Symposium returns for a second year

With a return of in-person programming, the Undergraduate Research Symposium offers opportunities for student researchers to showcase their work physically and network.
On March 27, 2023, the University of Toronto Mississauga Students' Union (UTMSU) will hold the second iteration of its annual Undergraduate Research Symposium. The event will take place from 12:00 p.m. to 3 p.m. at the Student Centre, and will showcase student research.
In an email interview with The Medium, Jihan Khatib, academic advocacy coordinator at the UTMSU, discusses what student participants and attendees can expect at this year's symposium.
The UTMSU first introduced the Undergraduate Research Symposium in 2022 to share undergraduate research across different disciplines. Many U of T research symposiums restrict showcasing projects and research to specific fields of study. "[These events are] either held for specific courses or programs or over the summer term, not giving all students the opportunity to participate," explains Khatib.
Khatib contends that the Undergraduate Research Symposium differs from similar events as students can win cash prizes for having the best presentation. "Unlike many U of T-wide symposiums, students will compete for a grand prize [of $1,000] rather than solely showcasing their research," explains Khatib.
"The UTMSU [has] allocated $3,000 for the Undergraduate Research Symposium. The $3,000 will be used to print participants' poster presentations, for food and refreshments, decorations, and for 'thank you' gifts to all participants and judges," states Khatib. She explains that the Office of the Dean has provided funds for the prizes.
Regarding this year's Undergraduate Research Symposium, the most significant change would be the return of in-person events. "With the [2022] virtual symposium, students had to submit a pre-recorded overview of their research in no more than five minutes," explains Khatib. "There will not be a pre-recorded option this year, but participants' research overview will still be required to meet the time limit [of five minutes]." Additionally, last year's symposium took place over three days, with each day being dedicated to one of the three disciplines at the university—humanities, sciences, and social sciences. Khatib explains that "This year, everyone will be presenting together in one space."
"The judges are given a rubric, and participants will be scored on the criteria outlined in the rubric. The participants are evaluated on the following criteria: overall style, delivery and impression of presentation, the content, the relevance of their research project, and overall creativity and/or originality," writes Khatib, explaining the method in which presentations are evaluated.
After the judges have finished their evaluations, Khatib explains that, "There will be a networking opportunity between students, faculty, and attendees, with refreshments served. This is an open event, so students, faculty and staff are all invited to attend!"
Khatib states there are currently six submissions to the event. Interested student researchers can register for the event before March 13, 2023. Only completed research projects will be accepted, and submissions should be formatted as a poster.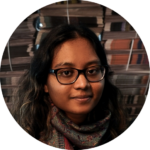 Staff Writer (Volume 49); Associate News Editor (Volume 48) — Razia Saleh is currently completing a Biology degree at UTM. She has been involved with The Medium since 2020 as a contributor and continued to write for The Medium as an Associate News Editor during Volume 48. She hopes that her experience as a writer with The Medium will help her contribute to society's efforts to provide authentic and factual journalistic media to educate her readers. She hopes to take her interest in ongoing research within the scientific field and explore ways to share it with others through this platform. In her spare time, she paints natural landscapes inspired by her travels and enjoy a few live concerts throughout the year. You can connect with her on Linkedin.