Samiha Mohsen on adjusting to student life in North America: "Though everything was changing, the pool is always there for me"
Samiha Mohsen received a bachelor's degree one year before her classmates, earned a master's degree from the University of Calgary (U of C) and is currently enrolled in U of T's medical school as a second-year student.
Born and raised in Cairo, Egypt, Samiha accepted a full-ride undergraduate athletic scholarship to Grand Canyon University in Phoenix, Arizona at the age of 16. Determined to move to Canada from the United States, Samiha expedited her bachelor's degree in pre-med biology. "I found that there would [be] better opportunities for me to be a citizen [in Canada] and so I decided to move when I was nineteen," she says. "I landed in Calgary."
Samiha got her masters in epidemiology at U of C before enrolling in U of T's medical school, an institution she believes "really pushes towards a holistic view of [health] than just textbook studies."
Samiha was always drawn towards medical research. "I really loved working in the hospitals in Egypt," she says of her time as a healthcare-enamored teenager. "Helping get medications to the population that needed them, that couldn't afford them […] it really impacted me emotionally to see how much helping someone else can change their entire life."
"When [your health is] impacted in any shape or form, it impacts every avenue in your life, and so to be a part of a system that may help that in any way […] it meant so much to me, and was worth the long road ahead, the oath you have to take, and the sacrifices," says Samiha.
What could possibly drive a young international student without parental presence or the comforts of familiarity to incessantly challenge herself at every step of her academic career? Swimming.
On top of her academic achievements, Samiha recently won six gold medals for Egypt at the 2022 Arab Swimming Championships in Algeria. She was also a top-scoring member of the 2021-22 Varsity Blues women's swim team.
Samiha describes herself as having been a "very hyper" child. With the encouragement of her parents, she channelled her energy through a variety of physical activities growing up, from roller blading to ballet to fencing and swimming. But she wasn't born talented like people generally expect elite swimmers to be.
"Honestly, I was not a good swimmer up until the age of maybe 13, which is a long time. It seems early, but when you started a sport at four, you can be competitive as early as nine [or] 10," Samiha explains.
Despite the late start, Samiha learned some valuable lessons in her early years as a swimmer. "I don't think it's easy to want to love waking up at seven a.m. every day, even when you're eight or nine, but it is a sport that requires you to really be in the game early on," Samiha says. "And then, after that, you kind of just [build] this routine [of] comfort and habit that's always going to last."
Samiha didn't go out much in high school. Her life revolved around making sure she was getting eight to 10 hours of sleep every night to conserve her energy for swim practices.
In spite of her impressive dedication to academics and the pools, Samiha inevitably faced cultural and educational barriers away from home. "While I do have those bursts of confidence before competitions, I do have a lot of doubts," she says.
Simple issues like not knowing how to send an appropriate email in academia or how to turn the dial to get her locker opened initially made it hard for her to "feel as good as my counterparts here," she admits.
But support from mentors and teachers encouraged Samiha immensely. "I don't think a successful physician or athlete is a one-man show. It takes a whole community," she says.
Samiha attributes much of her success in Canada to Varsity Blues swim coaches Byron Macdonald and Linda Kiefer. They were flexible enough to customize swim practices for her busy schedule and even sought out financial aid for her as a non-Ontarian student so she could go to medical school.
Alongside her work in critical care epidemiology, Samiha plans to swim professionally for Egypt while continuing her athletics training at U of T. We offer Samiha our best wishes for her future career.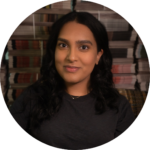 Sports & Health Editor (Volume 49)| sports@themedium.ca — Alisa is a third-year student completing a major in Professional Writing and Communication with a double minor in Political Science and Cinema Studies. She served as Editor-in-Chief of Mindwaves Volume 15 and Compass Volume 9 and was a recipient of the Harold Sonny Ladoo Book Prize for Creative Writing at UTM. Her personal essay, "In Pieces," appears in the summer 2020 issue of The Puritan. In 2022, she published her first poetry chapbook, Post-Funeral Dance, with Anstruther Press and wrote for The Newcomer as a journalist. When Alisa isn't writing, she's probably reading historical nonfiction, ugly-crying over a sad K-drama, or dreaming of places far, far away.