Remaining resilient in The Son of the House
Spoiler warning: this review contains plotlines from The Son of the House.
This book is not about men, despite what the title might suggest. Cheluchi Onyemelukwe-Onuobia's debut novel, The Son of the House, is about two strong women challenged with betrayal, pain, loss, and the patriarchal systems that steal their agency. After being kidnapped and held hostage together in a basement, Nigerian women Nwabulu and Julie pass the time by sharing their life stories.
These experiences show struggle and resiliency, allowing readers to reflect on the patriarchal systems set in place across the world. Onyemelukwe-Onuobia keeps readers engaged until the very last page of the novel with detailed descriptions of each character's personal growth. Although it is an easy, well-written read, heavy topics such as sexual assault, domestic violence, and child loss draw on readers' emotional strength.
After her father died when she was a child, Nwabulu is forced to drop out of primary school to take on the responsibilities of a housemaid for her stepmother. In the house, she is confronted with the expectation to be an obedient African woman, which causes conflict and she is sent to a stranger's house to continue on as a housemaid. There, she falls in love with a wealthy boy in the neighbourhood and becomes pregnant. During her pregnancy, Nwabulu is betrayed by her loved ones and fends for herself in a harsh and violent environment.
Juxtaposed against Nwabulu's story of struggle under a patriarchal system of perpetual violence and mistreatment, Julie's timeline represents a modern take on Nigerian women. Julie is a single woman who lives on her own and finds herself a boyfriend. Later, she discovers that her boyfriend is married and intends on taking her as a second wife.
Once finished, setting this book down was difficult. Parting ways with the novel felt like leaving behind a friend. Onyemelukwe-Onuobia is a genuine storyteller, pushing readers to inevitably fall in love with her characters. Through Onyemelukwe-Onuobia's words, we feel Nwabulu's pain when she realizes that she will never see her beloved son again. We understand Julie's struggle with the concept of polygamy and infertility.
If you are interested in learning more about the role of women in traditional Nigerian households and the restrictions set by a patriarchal system, Onyemelukwe-Onuobia's, The Son of the House is a book to pick up. The novel highlights class and power structures in Nigeria as the story ranges over four decades, showing readers what it is like to be a woman in the country. A story of women's resilience set against the plot of a kidnapping keeps readers intrigued and desperate to learn more.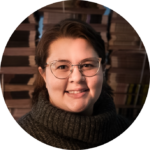 Associate Features Editor (Volume 48 & 49) — A recent graduate from UTM, Dalainey is currently working on completing her post-graduate studies in Professional Writing in Ottawa. She previously served as Staff Writer for The Medium's 47th Volume and as Associate Features Editor for Volume 48. Through her passion for languages, Dal hopes to create a fun and inviting atmosphere for readers through her contributions to the paper. When she isn't working, Dal focuses on developing digital art and writing her first novel. You can connect with Dal on her Instagram or LinkedIn.