Red (Taylor's Version) is a magical and miserable masterpiece

Taylor Swift's re-recording of her 2012 heartbreak anthem leaves fans crumpled up like pieces of paper.
As autumn leaves begin falling down like pieces into place, Taylor Swift's re-recording of her fourth studio album, Red, is a mascara-dripping, wine-drinking, tissue-grabbing phenomenon where Swift grants us the opportunity to observe her usual penchant for destruction. In an album dedicated to the perils of heartbreak, the freedom of growing up, and, of course, that iconic Gucci scarf left at Maggie Gyllenhaal's house, it is the honesty in Swift's songwriting that once again captivates a mosaic of broken hearts.
With Fearless (Taylor's Version) topping the Billboard 200 chart in April, Red is the second installment in her ongoing mission to reclaim her masters that were sold in 2019 to long-time industry bully, Scooter Braun, giving him control of Swift and her entire discography. Turning a savvy business maneuver into a sweeping career retrospective, we can hear a much more mature Swift hashing out the lyrics painstakingly written over a decade ago on her bedroom floor, except now she is in love, content with herself as a music industry heavyweight, and no longer willing to conform to mainstream scrutiny. Swift thanks her fans in an emotional Twitter post: "Red is about to be mine again, but it has always been ours. Now we begin again." And no, we are not fine at all.
Red enabled Swift to push beyond restrictive genre boundaries. In the incohesive masterpiece that reflects the turbulence of navigating young adulthood, the mega-pop manifesto straddles the confines of twangy country and heart-pumping pop. As a clear nexus between the beginning of Swift's music venture and the pop princess direction she headed toward with her fifth album, 1989 (2014), Red serves as a testament to the formative years and relationships that are "happy, free, confused, and lonely at the same time," like she sings in "22." The pop-infused half gives us "I Knew You Were Trouble," a rare pop-EDM crossover, as well as bratty retorts intertwined with the euphoric cheerleader background vocals of "We Are Never Ever Getting Back Together." The country portion includes dainty collaborations with Ed Sheeran and Snow Patrol's Gary Lightbody. This combination made the album ground-breaking for such a young artist.
The 2021 re-record, Red (Taylor's Version), stays true to this chaotic mess. Rolling Stone's Rob Sheffield awarded the album with five stars, describing the project as a "tribute to how far she's traveled, but it makes you even more excited for where she's heading next."
Originally a 16-track album, Taylor's Version is complemented by nine vault songs— songs that originally did not make the tedious process of song selection—and they could not be more Red. Like trying to solve a crossword and realizing there is no right answer, these additions help listeners understand the holes in the original album and give insight into the artist who transformed the fabric of the pop-country sector. Reclaiming her narrative, Swift is now creating the albums she wished she had put out. We never saw this coming, and we'll never be the same.
Red sports something deeply remarkable that most albums lack: a 10-minute-long diary-esque heartbreak ballad that sounds reminiscent of a rant session with friends surrounded by tear-stained tissues. The fan-favourite track, "All Too Well," became all too better. It initially launched as a five-minute song, but Swift's release of her original version gives the metaphorical middle finger to Big Machine Records, who forced her to condense the song a decade before. According to Sheffield, Swift "takes her own masterpiece, tears it all up, breaks it like a promise, shreds her tapestry, and rebuilds it into a new heartbreak epic, twice as long and twice as mad."
Before getting the chance to dance 'round the kitchen in the refrigerator light, the Artist of the Decade surprised the masses with her filmmaking debut, revealing that yes, you were unproductive in quarantine. Not only known for her relatable, catchy tunes, Swift shares the heart-wrenchingly intimate creation, All Too Well: The Short Film, which had an explosive weekend performance. Starring Swifties Dylan O'Brien as the charmingly arrogant Jake Gyllenhaal, and Sadie Sink as the wide-eyed songstress, the film is a whirlwind romance that showcases a troubled couple as the 10-minute masterpiece's only silence gives space for the intense dialogue sequence that is painful to watch. Working on the film as director, writer, and actress, Swift briefly took the number-one spot on Letterboxd with 4.67 stars for her astounding feature, displacing Parasite and the concert short Radiohead: In Rainbows—From the Basement. The short film premiered in New York City on November 12, making it eligible for Oscar nomination, and as we have already seen time and time again, nothing is out of Swift's reach.
As the album encompasses the tumultuous ups and downs of youth, almost like driving a new Maserati down a dead-end street, with the fresh new tracks that were given a spotlight after over a decade in her dresser drawers, we learn that Swift still has so much more to say. A track that documents one of her first ventures away from country—"22"—infamously tolls, "you don't know about me, but I'll bet you want to." And is she ever right. After revamping the heartbreak masterpiece, when you think about red, Swift bets you think about her.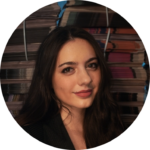 Staff Writer (Volume 48 & 49) —
Paige is in her third year at UTM, currently completing a double major in Biology for Health Sciences and Psychology. She previously worked as an Associate Editor for A&E in Volume 47 of The Medium, and as a Staff Writer in Volume 48. When she is not writing review articles for A&E, you can find her watching rom-coms, writing inappropriate Letterboxd reviews, playing basketball, cruising on her motorbike, and fangirling over the icon that is Taylor Alison Swift. You can connect with Paige through
Instagram
 and 
Letterboxd
.