A city for everyone: Professor Ron Buliung on building a more accessible future

Prospective urban planners will learn the importance of integrating accessible city designs for those living with a disability.
Recently awarded the Mikey Milner International Professorship Award, University of Toronto Mississauga (UTM) professor Ron Buliung presented the Holland Bloorview Research Institute symposium on November 15 under the theme of "Building Up and Building Out: Elevating and Expanding Childhood Disability Research." The event discussed innovative research that expands childhood disability research to a new level. In association with the Holland Bloorview Kids Rehabilitation Hospital, the Mikey Milner International Professorship Award is given to outstanding leaders in childhood disability research.
"When I looked at past speakers, it was all people that I've read closely and respect a great deal," says professor Buliung. "It was an incredible honour to have an external group tell me that my work was good enough to [share]." The symposium is Canada's largest hospital-based paediatric disability health research conference to recognize scientific and academic leadership. Many leaders in the field deliver annual keynote lectures, including Dr. Gillian King, Canada's Research Chair in Optimal Care for Children with Disabilities, and Dr. Roberta Woodgate, a leading professor at the University of Manitoba's College of Nursing.
First introduced to geographic information systems and computer mapping during his undergraduate at McMaster University, professor Buliung originally planned on studying History and English. After discovering a passion for geography, he pursued a major in Geography and a double minor in English and History. "When I finished my last exam in my undergraduate, I had no idea what to do [next]," recalls professor Buliung. "So, I walked out of the room and one of my Geography professors was sitting there and I asked if they had any jobs." He was offered a research assistant position which began his journey on the course of academia.
Beginning his UTM journey in 2006, professor Buliung taught the introductory Geographic Information System and statistical analysis courses under the Geography, Geomatics, and Environment program. "I contributed for many years to the geographic information systems undergraduate programs in what was then the Department of Geography and Environment," adds professor Buliung. Recognition of the field of geomatics under the department is important, as it deals with the collection and analysis of spatial data.
Professor Buliung introduced GGR370: The Geography of Transportation to UTM, an undergraduate course that explores the mobility, accessibility, transportation networks, and flows in cities. "Everyone has something to say about transportation, so I find the conversation with students in the course really great," states professor Buliung. "They teach me a lot about their experiences and things that I might not have considered in the field of transportation geography." This year, the course will have a particular focus on the highway development projects that Ontario premier Doug Ford plans on pushing through the Greenbelt.
This year also brings an exciting new graduate course taught by professor Buliung, titled "Disability in the City"—UTM's first dedicated course on disability studies and planning. Focusing on the theories describing disabilities and city planning, professor Buliung hopes to give some of Canada's future urban planners some insight into the experiences of people with disabilities in our cities and the ways that these spaces can produce disabling experiences.
"Cities weren't built to be accessible from the beginning," explains professor Buliung. "We're dealing with a historical legacy of inaccessible environments." Due to the nature of his research and everyday life, this course is one he is most excited for—although he has yet to teach it.
Following his daughter Asha's diagnosis with spinal muscular atrophy type 2, professor Buliung changed his path in academia and began focusing on the intersection between disability research and urban planning. "My daughter motivates all the work that I do," he expresses. "It took a while for me to get from that moment to being able to situate myself within disability studies to the degree necessary to be able to do research in that space."
He is currently working on multiple research projects, having just completed a round of academic publishing on the school travel experience in children with disabilities. Alongside PhD student Rhonda Solomon, professor Buliung is working on what he calls "the problem with bathrooms," in which the disabling elements of bathroom design in our cities are addressed. These elements include tight spaces that prevent people in wheelchairs from turning, as well as a lack of grab bars.
"I also have some collaborative work with a colleague at Ryerson University," he adds. "An arts-based research project looking at the ways in which the arts can be used as a vehicle to help individuals with disabilities communicate different aspects of their lives."
There are some projects on the horizon for professor Buliung, some of which explore the impact Covid-19 had on children with disabilities and their access to education. "This is something I know very well because my daughter is disabled and had at-home schooling for all of last year," he concludes. "I got to see first-hand the limitations of that approach."
The ways in which our cities are built is something able-bodied individuals often take for granted. Urban planners and geographers like professor Buliung work to address inaccessible city features to ensure accessible environments for everyone—whether it be through the design of wider hallways in buildings, or the removal of unnecessary elevations on city sidewalks.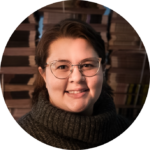 Associate Features Editor (Volume 48 & 49) — A recent graduate from UTM, Dalainey is currently working on completing her post-graduate studies in Professional Writing in Ottawa. She previously served as Staff Writer for The Medium's 47th Volume and as Associate Features Editor for Volume 48. Through her passion for languages, Dal hopes to create a fun and inviting atmosphere for readers through her contributions to the paper. When she isn't working, Dal focuses on developing digital art and writing her first novel. You can connect with Dal on her Instagram or LinkedIn.