"Queer alien gender things" in Victoria College Drama Society's rendition of Hedwig and the Angry Inch

A conversation with UTM's star director Anthony Palermo on acquiring self-love through an intergalactic rock musical.
Glitter, rock n'roll, and sexual innuendos. A German drag queen with layers of colourful dresses and a collection of blonde wigs. On October 14 and 15, 2022, the Victoria College Drama Society (VCDS) at the University of Toronto St. George Campus presented Hedwig and the Angry Inch—a genderqueer comedy-drama rock musical. Directed by Anthony (Ani) Palermo, this two-actor show starring Hedwig (Thomas Cordoso Quinn) and Yitzhak (Emma Coulson) wowed audiences with head-bang worthy songs and sentimental dialogue. I left the show thinking about what it means to "find home" in a world where "home" seems like a lost journey.
Since its original off-Broadway premiere in 1998, Hedwig and Yitzhak have graced audiences on stages worldwide. According to Broadway Buzz, the show's creator, American actor John Cameron Mitchell, based the character of Hedwig on his long-time babysitter, Helga—a divorced "German army wife but also a prostitute." The show was also adapted into a musical film of the same name in 2001.
Hedwig is a queer, genderfluid rock singer from Communist Germany. Born as Hansel and raised by a cold-hearted single mother, Hansel became fascinated with Western rock music. In her tiny East Berlin apartment, Hansel's mother forced her to listen to music in the oven—to try and muffle the sounds of the American tunes on the radio. As she listened to artists like Lou Reed and David Bowie, Hansel would bang her head to the faint beat she heard against the oven door. She dreamt of a life of love and fame.
The show captured Hansel's experiences as she searched for her "other half." After meeting Luther Robinson, a US solider—uncast in the production but referred to as "sugar daddy"—Hansel was ready to fulfill her dreams in America. Before she left Germany, Hansel's mother, Hedwig, gave Hansel her passport and forced her to perform a sex reassignment surgery. Her surgery was far from perfect, leaving her with an "angry inch" of flesh between her legs.
Hedwig's story is one of finding truth and acceptance within oneself, no matter how lonely our surroundings may feel. Mixing fist-pumping songs like "Angry Inch" and "Sugar Daddy" with ballads like "The Origin of Love," the performance depicted the rocky, genderbending road of Hedwig and her back-up vocalist—and later lover—Yitzhak. They called their fiery duo "The Angry Inch."
In an interview with The Medium, Palermo spoke of their rendition of the show and what they hoped for audiences to learn from it.
"When I pitched the show to Victoria College, I kind of went into it with the idea of finding home in yourself," said Palermo.
After reading the paperback version in "Queer Writing," an English course at the University of Toronto, Palermo explained that they identified with Hedwig's character in a "poetic way." Her gender journey and how it plays into societal systems of the past and present inspired Palermo's take on the show.
"[Hedwig's story] made me think about what it means for genderqueer, non-binary, and trans people to live in a world that is often times harmful because of its systems," Palermo explained. The show's theme of "finding comfort and safety in yourself" was of utmost importance in Palermo's directing.
With a fun twist, Palermo explored Hedwig's character as an intergalactic creature.
"I had this concept where I wanted to see Hedwig as this alien figure from another planet. Because the show has been done in the same way—in the original cast, the Broadway revival, and basically every interpretation I've seen—I wanted to mess with that concept in a way that still fit, [while interpreting] new things through it."
As one of a few in-person shows that Palermo has directed, Hedwig and the Angry Inch strummed a vibrant and infectious chord.
"The space [that the show took place in] is like a little concert venue and lounge for students," said Palermo. "It's untraditional but working in it was intriguing for me. I thought that there was something about being so close to the action [and] playing with that intimacy factor [that] has been so much fun."
To conclude, Palermo used a string of unrelated words to describe the show. "It's queer, explosion, magic, art," they said. Truly unforgettable, Hedwig and the Angry Inch by VCDS left me wanting more. By the end, my friends and I left the venue dancing, singing, and wishing we wore sparkly outfits.
For those that missed the show, do yourself a favour and listen to Hedwig's original Broadway soundtrack. Perhaps the iconic drag queen can remind you about the value of loving yourself.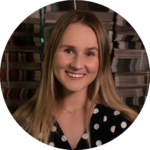 Arts & Entertainment Editor (Volume 49) | arts@themedium.ca — Julia graduated in 2022 with a major in English, and a Professional Writing and Communications and Drama double minor. She previously worked with The Medium as Theatre Erindale Correspondent for Volume 48. As the A&E Editor this year, Julia cannot wait to explore the wondrous world of arts and spark creative conversations amongst student writers. If she's not writing, working, or spending too much money on overpriced iced coffees, you can find Julia singing tunes with her guitar, bingeing Netflix shows, or going on nature walks with her doggo Benji. You can connect with Julia on LinkedIn or Instagram.