Ontario government increases funding for women programs

Women's Employment Resource Centre, the Women's Centre of Hamilton, and the Women's Own Resource Centre are among 23 centres that will receive funding to enhance their programs and services.
As part of their fiscal review released in Early November, Ontario has announced they will be committing half a million dollars between 2021 and 2022 to women's programs.
This $500,000 raises the total funding to $2.7 million for the Investing in Women's Futures program. This funding will be dispersed among 23 centres in Ontario, including Women's Employment Resource Centre, the Women's Centre of Hamilton, and the Women's Own Resource Centre.
The fiscal review also reveals the province will further support women's employment and equality by including a modernized school curriculum, topping up the Childcare Access and Relief from Expenses tax credit, and contributing $5 million to the Racialized and Indigenous Support for Entrepreneurs grant. With these plans, Ontario hopes to increase opportunities for female entrepreneurs in marginalized communities.
The program enables thousands of women to pursue further education, access resources, or start their own businesses. According to their news release, 19,000 women have accessed the program in the past three years.
The Women's Employment Resource Centre is a charitable, not-for-profit organization, and is also one of the centres in Ontario offering this program. Providing services both online and in-person in the city of Woodstock, the centre also presents a free six-week skills development program that helps women finding work.
The program offers certification workshops, job search strategies, and other support resources for women. They can also provide employment counselling and work materials.
Located in South River, the Women's Own Resource Centre is another facility that will receive funding for women. They host free workshops and networking events, as well as fundraising auctions and events. Their aim is to "provide information, referral, and support to assist women in working toward their economic goals."
The University of Toronto Mississauga (UTM) also provides numerous services for women. For instance, the UTM Women and Gender Equity Centre, located in Maanjiwe Nendamowinan, aims to increase awareness about the type of issues faced by women and make campus a safer place. They offer events and educational workshops and feature virtual office hours for students.
In terms of funding, there are also several financial opportunities and awards available on campus for women. Through the Women and Gender Studies program, eligible students can apply for the Women and Gender Studies Student of the Year Award, awarded to one student annually, or the UTM Women's Centre Scholarships, awarded to two students.
The university also marks the National Day of Remembrance and Action on Violence Against Women 2021 in Canada. This year, the Sexual Violence Prevention and Support Centre at U of T will be holding a virtual remembrance event, where students can register online to attend.
As women typically face greater challenges in the workforce and in academia, U of T and Ontario have demonstrated clear commitment to supporting women and their needs. By providing an array of services, women can seek help at UTM and other institutions.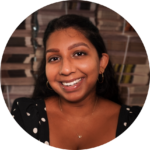 Staff Writer (Volume 48 & 49) — Hema is currently in her final year, finishing a double major in Linguistics and French Language Teaching and Learning. She previously served as a Staff Writer for Volume 48 of The Medium. Her favourite part of writing is the opportunity to research new topics, speak to new people, and make her voice heard, and she hopes that her articles can spark this interest in other students. In her spare time, you can find her in bed reading with a cup of coffee (and she's always looking for more book recommendations!).