More than robots—athletes and mental health

This year, many Olympians did not participate in their sporting events to focus on their mental health.
This year, several Olympians have chosen to focus on their mental health and withdraw from their events in the Tokyo 2020 Olympic Games. Some notable names include Simone Biles, an American gymnast, and Naomi Osaka, a Japanese tennis player.
In an article by Forbes, Biles' courage to speak out publicly about her mental state and its hindrance on her physical performance, broke boundaries that were silently in place for years—a public perception that elite athletes at the peak of physical fitness are also mentally fit at all times. Biles' disapproves of this idea and helped normalize topics of mental health among high-level athletes with her actions. Biles spoke on her withdrawal from the games, stating, "We're not just athletes, we're people at the end of the day and sometimes you just have to step back."
Retired Canadian figure skater Patrick Chan also struggled with mental health battles during his training. He tells CBC, "I was burnt out. I did not want to be at the rink. […] It felt like such a daunting task to get myself physically prepared and then mentally prepared to go to the Olympics." He further explains that the pressure emerged from years and years of being in the public eye and training endlessly to become an elite—the elite—athlete. The product? Self-doubt, says Chan. He was afraid that he would have put in so much work to become the best, only to get to the Olympics and not be the best.
Based on a study conducted by the University of Toronto, symptoms associated with mental health disorders can be higher in elite athletes than in the general Canadian population. In a self-reported survey completed by 186 Canadian Olympians and Paralympians in December 2019, results indicated that 41 per cent met the criteria for anxiety, depression, or an eating disorder.
Increased stress for athletes is found to be directly linked to mental health disorder symptoms. According to a psychologist, stressors like training load, self-esteem, social support, and coping mechanisms are huge markers for mental disorders in elite athletes.
The psychologist further explains that the constant feedback and criticism that elite athletes face, especially at the time of a huge competition, like the Olympics for Biles or the French open and Wimbledon for Osaka, heightens stress.
In an interview with Time Magazine, several Olympic competitors, such as Kate Nye and Naomi Osaka, expressed their encounters with mental health issues during the games and stated it is an extremely courageous and important step that athletes ensure they prioritize their health and wellbeing over their ego and their perceived responsibility to compete.
They further explained that the "burden of expectation" that Olympians carry is "particularly debilitating." Olympic athletes work tirelessly with coaches and so many other influential figures and gain the support of their nation. They feel that they are letting people—and themselves—down if they withdraw from their events.
Unfortunately, some athletes faced mental breakdowns and mental health issues in light of the Olympic games held in the midst of the pandemic, and not all of the public was sympathetic to their cries for help.
Understanding that Olympic athletes are human, not machines made to perform, is the first step in supporting their mental health. "Being an Olympian is advertised as this amazing thing, and they leave out all the side effects," states figure skater Gracie Gold in "The Weight of Gold," a documentary co-produced and narrated by swimmer Michael Phelps. We all must work together to eliminate this stigma and level the grounds for mental health.

Alex Bowen, a member of Team USA's men's water polo team shares, "Hopefully this reframes how people look at athletes. […] We aren't born great. But what we do to be great is relentlessly pursue greatness. It's not all about what you are, but what you are trying to be. We are all human; the Olympics are about trying to become your best self. And it's O.K. to get help to become your best self."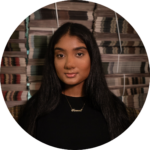 Opinion Editor (Volume 49) | opinion@themedium.ca — Kareena is a third-year student completing a double-major in Criminology and Socio-Legal Studies and Philosophy, and minoring in Forensic Science. She has previously served as the Associate Opinion Editor for Volume 48. Through her involvement and contributions with The Medium, Kareena hopes to foster a safe and trusted space, while encouraging others to let their voices and stories be heard. When Kareena is not writing or studying, you can find her watching true crime mysteries or cooking.