Manjang's Next Chapter: Former Eagle signs first pro basketball deal
"A lot of people have dreams, not goals," says Hassan Manjang, UTM alumnus with an Honors Bachelor of Arts in politics, sociology, and Canadian studies. Manjang was also a player on the Eagles basketball team. As an explosive guard with a lot of bounce, Manjang has been dedicating his time to preparing for his pro-basketball opportunity in Cape Verde.
"My parents were able to help me graduate with no debt. […] I'm actually allowed to chase what I want to chase […] that's why I signed this deal in Cape Verde. Playing pro basketball is going to be a reality so it's not a dream, it's a goal." But basketball wasn't always the reality-based goal for Manjang, who only began taking the sport seriously in the past ten years.
At twelve, Manjang was an aspiring pro skateboarder who missed out on a sponsorship deal just before breaking his shin. After that, he decided to give basketball a try: "Then I went all-in onto ball, and I've always been a dreamer, an obsessive personality, so when basketball happened the first thing I noticed was that it's way easier to get better at basketball than it is to get better at skateboarding."
In 2016, during exam time for Manjang, the dictatorship in his home country Gambia was at its peak, and people did not have internet connection. "I literally could not message anybody back home […] This should not be happening in the 21st century. Why am I struggling to know if mom is alive, or if my dad is alive?" This incident contributed to his desire to make a difference in the world, especially in Gambia, one of the poorest countries in the world. "Politics was something I was really drawn to in university," he says.
Manjang, matured immensely as he went through high school and university. "I'm also a religious person," he says, "so I feel like Allah, because I'm Muslim, allowed me to have this type of life and it would be selfish of me not to try and give back to other people who aren't as fortunate."
An adversity that many Muslim athletes go through is the challenge of fasting during Ramadan while also competing at high levels. Ramadan is an Islamic month during which Muslims do not eat or drink anything from sunrise to sunset. Manjang does not see this as a struggle. "Religion and basketball have never conflicted, they've always helped me. […] If you look at basketball, every year Enes Kanter is fasting in the playoffs and he's still getting 12 rebounds, 12 points, 20 points, 18 points. That's why I think it's all mental."
Hassan Manjang's life trajectory has gone from living in several countries, an unlucky shin-break to end his almost pro skateboarding career, landing in Canada, being able to play basketball at UTM, and finally to his undergraduate degree. As for what life holds for Hassan, we hope that his pro-basketball deal in Cape Verde is rewarding and that he can continue to leave his mark on the world.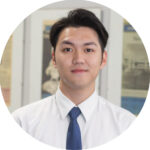 Athletics Correspondent (Volume 48) — Robert is completing a Bachelor of Commerce, specializing in accounting. He has served as a staff writer for two years. Upon completing first year Robert was unsure of which programs were available to him and what to commit his time into. Curious, he took writing courses and began writing short stories on his free time which led him to The Medium. He loves the competition that sports brings and spends his time watching or playing Basketball, Tennis, or Soccer.