Mathematics meets performative theatre in award-winning play coming to Theatre Erindale

A live merging of arts and science hits the stage with the one-woman play Truth Values.
Speaker, writer, performer, and singer, Gioia De Cari, will be taking center stage with her play Truth Values at the University of Toronto Mississauga (UTM) and the University of Toronto Saint George (UTSG) campuses.
Originally from Berkeley, California, De Cari splits her time between Boston and New York as she brings more than 30 characters to life through her one-woman performance. On September 20, 2022, De Cari will perform in front of a Canadian audience for the first time.
"It's a very American play—I hope Canadians will like it!" De Cari said in an interview with The Medium.
Concocting a joyous synergy between science and art, De Cari seeks equilibrium by amalgamating her two interests in this 75-minute production. This one-actor play touches on the obstacles that professional female scientists face in a male-dominated field. De Cari's inspiration comes from her time as a mathematics PhD student at the Massachusetts Institute of Technology (MIT). Having written the script as a writing exercise, Truth Values places importance on conversations about equality and underrepresented people in science, technology, engineering, and mathematics (STEM) programs.
The true story offers an insightful look into life at MIT as a force-to-be-reckoned-with woman navigates the murky waters of graduate education and—what she coins to be—the "Male Math Maze." At its world premiere in 2009, Truth Values was the winner of the Overall Excellence Award for Best Solo Show at the New York International Fringe Festival.
Through the play, De Cari unfolds stories that are often untold. Her energetic performances speak louder than any abundance of props ever could and her soulful, yet humourous, energy transcends to the masses. By labelling herself a "recovering mathematician," De Cari explains that she used to hide her mathematic past. "I felt in the arts I wouldn't be taken seriously if I had such a background, and then I realized, it isn't something to hide," she says. "Let's just work on finding a way to make audiences smile."
The principles of mathematics are at the forefront of the production, acting as an artistic metaphor. The root, no pun intended, behind the play's title takes on a beautiful allegoric meaning. "Truth Values is a mathematical concept," De Cari explains. "During my graduate studies in math, my research interest was in logic—the world of true and false. I was interested in what happens if you put something between "true" and "false," such as "maybe," or even a whole continuum between the two."
This mathematician turned theatrical artist helps to cultivate an environment with her performances that elicit discussions—a primary focus in the growth and direction of the production: "The people who see the play and value education as well as conversations regarding women's equality in STEM fields have become very captivated by this play," she shares.
To further expand De Cari's outreach, The Alfred P. Sloan Foundation, an organization that champions educational programs where the sciences and the arts are mixed, supported the production with external grants. The foundation has placed the promotion of women in STEM, both on screen and on stage, at the forefront of their mission. The foundation had previously funded Hidden Figures (2016), a film directed by Theodore Melfi that reveals the true stories of the Black female American mathematicians at NASA who assisted in winning the space race against the rivaling Soviet Union. With this same support, De Cari was able to construct a more educational structure that allows for the show to be screened among younger demographics.
"And that is where the students come into play," explains De Cari. "Receiving this grant before the pandemic, the production team developed a foundation to provide the most effective talkback after the show."
This framework described by De Cari has been paramount in enticing conversations about equality in STEM related programs across the United States. Beginning her Canadian tour at the University of Ottawa, then performing at Erindale Studio Theatre and Hart House Theatre, and finishing at the University of Waterloo, these mark her first international performances to date.
"It is amazing to play in front of students," De Cari says. "My goal has really just been to stir the soul and to bring some beauty and artfulness, and most importantly, captivate an audience for an evening. That's all I have really ever been about."
Truth Values will be on stage at Erindale Studio Theatre (UTM) on September 20, 2022 and Hart House Theatre (UTSG) on September 22, 2022. Each show will include a 30-minute "post show talkback" panel with De Cari. All tickets can be purchased online on Hart House Theatre's website.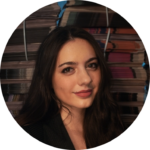 Staff Writer (Volume 48 & 49) —
Paige is in her third year at UTM, currently completing a double major in Biology for Health Sciences and Psychology. She previously worked as an Associate Editor for A&E in Volume 47 of The Medium, and as a Staff Writer in Volume 48. When she is not writing review articles for A&E, you can find her watching rom-coms, writing inappropriate Letterboxd reviews, playing basketball, cruising on her motorbike, and fangirling over the icon that is Taylor Alison Swift. You can connect with Paige through
Instagram
 and 
Letterboxd
.