Locked on leafs: The Definition of Insanity
For the past six consecutive years, the Toronto Maple Leafs have been eliminated in the first round of the playoffs. They have not won a series since 2004—losing in 2013 and every year between 2017 to 2022. The organization has not won the Stanley Cup since 1967.
It is almost good luck to be up against the Leafs in the first round. Three out of the past six teams that have eliminated the Leafs went on to the Stanley Cup finals. The most recent team being the Tampa Bay Lightning. Tampa is a dynasty team that won back-to-back Stanley Cups in 2020 and 2021 and reached the finals this past year.
Toronto played their best playoff series of the past six years against Tampa. Over the course of the series they scored more total goals than Tampa; on paper, they were a better team. But their efforts were still not enough.
Other years it was their inexperience, lack of maturity, lack of defense, or letting external pressure affect their game, but this year it just wasn't meant to be.
Some fans think the team is cursed and no matter what, they will never win the Stanley Cup again. The more optimistic fans will point out that management has learned from each loss, and that maybe the future isn't so grim.
The team's best players, Auston Matthews, Mitch Marner, and William Nylander, are all young and will only get better. Their captain, John Tavares, is still an extremely effective player, and management has given those core players a supporting roster with dynamic skill sets for the best chance at success.
As training camp started on September 14, and with the pre-season starting on September 28, general manager Kyle Dubas still has many unanswered questions he needs to address. Perhaps most pressing is the goaltending situation.
After losing his starting goaltender Jack Campbell to free agency, Dubas is putting his hopes in former back-to-back Stanley Cup champion Matt Murray, who has recently seen a noticeable decline in his play.
Another big question is the availability of star rookie defensemen Rasmus Sandin, who has yet to sign an NHL contract and is in jeopardy of missing the beginning of training camp or worse, the beginning of the season.
The Leafs are facing an overabundance of forwards, especially in the bottom six—an area of the roster typically held by weaker players. Currently, ten players are fighting for six spots. Hopefully, the competition will bring out the absolute best in these players.
Regardless of how and when these issues get solved, the big test for this team will come in the spring when they look to take on whatever team stands in the way of the Stanley Cup.
Perhaps this year the Leafs will finally make us feel a little less insane for sticking by them all these years. Or maybe it'll be another quiet May in the Scotiabank Area.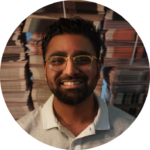 Locked on Leafs Columnist (Volume 48 & 49) — Omar is in his fourth year at UTM, working towards completing a major in CCIT and double minors in Political Science and Anthropology. Omar loves to keep up with various sports teams, his favourite being the Toronto Maple Leafs. When he isn't stressing over exams or the Leafs you can find him watching movies, looking at shoes he can only hope to afford, and trying his best to avoid parking tickets on campus.