Looking back with the UTMSU: Financial literacy, mental health, and guaranteed food security

President Mitra Yakubi and the UTMSU team review this year's achievements while reflecting on Covid-19 obstacles.
"It was a challenging year for most of us due to the pandemic and the closing and reopening of campus," states University of Toronto Mississauga's Student Union's (UTMSU) President, Mitra Yakubi, as she looks back on the year in an email interview with The Medium. Despite facing various unprecedented challenges, the UTMSU achieved several accomplishments during the 2021 to 2022 academic year for the student body.
This year, the UTMSU hosted its first ever Undergraduate Research Symposium, greatly raising awareness about UTM's students' research.
To smoothen students' transition into university life, the UTMSU also launched its Student Survival Guide, which provides information including the availability of campus resources for academics and finances, as well as some all-around tips on how to achieve success in university.
In cooperation with the Canada Revenue Agency, the UTMSU organized financial literacy workshops, allowing both domestic and international students to familiarize themselves with Canada's tax system and potential scams to look out for.
Recognizing the vitality of students' mental health, the UTMSU introduced numerous initiatives and programs specifically geared towards improving the mental wellbeing of students. To begin with, the UTMSU successfully lobbied for embedded mental health counsellors within each department, increasing the accessibility of mental health resources.
In like manner, the UTMSU reintroduced the My Mental Health Matters campaign, which included week-long programs in both semesters of the academic year. These programs were specifically organized to address the prevalence of depression and anxiety among university students, most notably increasing awareness of mental health matters and resources for the student body.
Another program that was introduced this year is the UTMSU Health and Wellness Program, which included numerous virtual and in-person sessions for students to discuss their mental health concerns and disorders.
To address difficulties faced by students entering the workforce, the UTMSU proudly introduced a job readiness support program. This program included workshops and professional headshot services to help students better present themselves to potential employers. To a similar end, in collaboration with the Career Centre, the UTMSU organized successful workshops such as the "Finding Summer Jobs & Internships" and "Internships & Personal Branding."
The importance of physical health was not neglected either, as the UTMSU successfully negotiated for increased coverage in UTM student's health and dental plans without a premium increase. Essentially, students will receive more services for the same pricing as previously years.
Many of the UTMSU's actions were aimed at guaranteeing the security and quality of food to students as well. Regarding food security, the UTMSU expanded the food centre on campus, increasing accessibility to food for those in need. As for food quality, UTMSU successfully removed Chartwells as UTM's main food provider, a position now held by Aramark Corporation. The previous food provider received many complaints regarding its pricing and lackluster food quality, especially by students living in residence.
Several organizations were faced with numerous challenges due to this year's unpredictable restrictions. "Many events such as Orientation Week and SaugaFest had to be dialed down to meet the safety guidelines and restrictions," states Yakubi. Regardless, through adapting to changing circumstances, the UTMSU strived to ensure that all events still served to support UTM students in their endeavours.
It is still too early to think about the UTMSU's plans for the upcoming academic year due to a change of executive teams as the year ends. Regardless, the future holds much promise, since the UTMSU will remain dedicated to providing students with cost-saving services, campaigns, and events that will strengthen the connection between UTM students.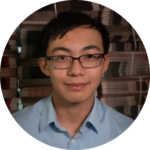 News Editor (Volume 49) | news@themedium.ca — Larry is a third-year student specializing in accounting. He finds writing to be an outstanding medium to spread messages, thus being a phenomenal way to express oneself and to have one's voice heard. Through his contributions to The Medium , Larry hopes that everyone can witness how enjoyable and invigorating writing can be, such that they too may be inspired to write out their stories. When he's not studying or writing, Larry will probably be learning Japanese or listening to music, all the while contemplating what life's next story would be.