Lady Gaga turns Toronto's Rogers Centre into a cultural temple for sad souls

A critical look at Gaga's 'Chromatica Ball' performance that left audiences speechless.
After a two-year delay due to pandemic restrictions, Lady Gaga is finally on the road to showcase her latest solo studio album, Chromatica (2020), across Europe, North America, and Asia.
After the 2016 release of her soft rock, stripped-down, and rather uncharacteristic preceding album Joanne, Chromatica is a welcome return to her Top 40 electropop roots, gaudy costumes, theatrical music videos, and scintillating performances.
Now, the 'Chromatica Ball' concert.
On August 6, 2022, Gaga performed at the Rogers Centre in Toronto for a full house. With quick-tempo, synth-heavy dance songs like "Alice" and "Enigma" that transported you back to a 90s New York nightclub, Gaga worked a crowd that was as eclectic as her career. From double-dating grandparents, glittery-eyed college students, middle-aged moms, and 10-year-olds with "BABBLE ON" logoed on their backs, the 'Chromatica Ball' included all—that's to say, the event organizers would have done well to age-restrict the concert. Gaga's sometimes profane mid-concert speeches, coupled with menfolk parading about the venue in thongs and cowboy boots, wasn't exactly suitable material for society's most vulnerable.
The setlist, of course, included well-loved oldies. Opening with "Bad Romance," Gaga led fans into the song's famous "ra-ra-ah-ah-ah" chant, readying them for other early-hits like "Just Dance" and "Telephone," and ultimately conjuring up memories of seemingly simpler times.
Mid-way through the show Gaga sang "Born This Way." Would any Gaga concert be complete without the "this-is-who-the-f**k-I-am anthem" and a little homily-style pep talk to introduce it?
"Whether you're sure or not sure about who you are, you can always just tell somebody, 'I was born this way,'" she advised, sitting at an alien-like piano on a small empty stage in the centre of the stadium.
In a slowed down, instrumental rendition of the electropop song, Gaga played the piano wearing red lipstick, slicked-back platinum blonde hair, and a reflective gold pantsuit. The lyrics that she soulfully belted stretched across the stadium to penetrate the hearts of those on the margins of society. Gay men in attendance, for instance, watched and listened with reverence while patting tears down into their blush.
You can't help but think, huh, Gaga's really got some nerve.
If we lived in a grey, war-torn near-future dystopia with little hope and faith, the 'Chromatica Ball' would be one place to take refuge in for some morale-boosting fun. The show's brutalist-inspired catwalks across stages that spit up fast-dissipating clouds of fire, giant screens that played short abstract videos of Gaga as a cyborg with orchestral musical interludes, and visually pleasing choreography performed by Gaga and her untirable backup dancers, added to the spectacle. Most importantly, the five-foot two-inch queen offered an all-encompassing message: songs and dances bring us together in the midst of disorder.
Gaga has been championing the interests of the different and has been bullied since the beginnings of her musical career. At the 'Chromatica Ball,' after two years of incredibly hard knocks from the pandemic, Gaga's influence and her call for more self-confidence in the troubling social identities of our choosing was on full display.
As if being a supremely talented singer, songwriter, and actress weren't enough, Gaga has garnered mass attention and even a cult-like following by telling people in search of strength and direction to look no further than their weak and lost selves.
Whether or not you buy into Gaga's virtue, the 'Chromatic Ball' clarified something we can all agree on and have long since known: Gaga is a true show woman. Her outrageous stage production designs and well-realized performances elicit "wows" and "woahs" from anyone who beholds them. Her big and natural voice that rips and roars through screams and cheers goes unmatched in today's world of whisper pop and autotune. Her ability to turn a stadium into a party room is a testament to the energy and passion she has for entertainment.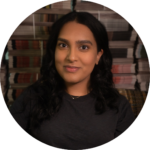 Sports & Health Editor (Volume 49)| sports@themedium.ca — Alisa is a third-year student completing a major in Professional Writing and Communication with a double minor in Political Science and Cinema Studies. She served as Editor-in-Chief of Mindwaves Volume 15 and Compass Volume 9 and was a recipient of the Harold Sonny Ladoo Book Prize for Creative Writing at UTM. Her personal essay, "In Pieces," appears in the summer 2020 issue of The Puritan. In 2022, she published her first poetry chapbook, Post-Funeral Dance, with Anstruther Press and wrote for The Newcomer as a journalist. When Alisa isn't writing, she's probably reading historical nonfiction, ugly-crying over a sad K-drama, or dreaming of places far, far away.