Jodi Emerson rides the path to a passion-fuelled career
Jodi Emerson was seven years old when she first rode on horseback at a friend's birthday party. The horse, called Hocus Pocus, was solid black with white socks and a stripe down his face. When the party ended, Jodi went home and asked her parents if they could take her back to Hocus Pocus. She had fallen in love with riding.
"After [the birthday party], I started going to horse camp and then started lessons," says Jodi, a second-year student in the Professional Writing and Communication and Geography programs at the University of Toronto Mississauga (UTM). "I have been riding for about 12 years now."
Today, Jodi rides competitively as an intermediate rider on the University of Toronto Equestrian (UTEQ) team.
The UTEQ team welcomes students with an interest in riding from all three U of T campuses to get involved recreationally as well as competitively. It is not, however, classified as a sports team at UTM. "This is mostly because of the dangers and the costs associated with riding," Jodi explains. "So, we're more of a club at the moment."
The UTEQ team is mostly self-funded, though it occasionally gets sponsors like Ogilvy, an equestrian brand that specializes in the design and production of high-quality saddle pads. The company has given its products as prizes to team members who won championships in their respective divisions.
Currently, the team also rides with the Ontario Collegiate Equestrian Association, an organization that supports university students who participate in equestrian sports during their studies.
Moreover, horse owners "donate" their horses to the team for use in a practice called "catch riding." "You can't ride your own horse," Jodi says. "You must ride the horses donated by different people."
Catch riding, according to Jodi, is the most challenging part of being an equestrian: "We do two classes, jumping and a flat class, and we have a different horse each time." Riders, in other words, get no bonding time with their assigned horses, and they must adapt quickly to the unique quirks of different horses for each class. "But it's also fun," Jodi says. "We get a little bio for each horse before we ride, then we just hop on and go!"
For Jodi, the most rewarding part about riding with the UTEQ team is being able to spend time with her teammates. "We get along really well, and everyone always cheers for each other," she says. "We have a special cheer for each person."
Jodi and her fellow equestrians also attend events as a group. In fact, they watched show jumping (competitive speed-based obstacle course horse riding) together at the Royal Agriculture Winter Fair at Exhibition Place in Toronto last week.
"There's always drama in the [cutthroat] horse-world, but not in U of T's Equestrian team" where everyone is friendly, and the competitive atmosphere is relaxed.
When she is not riding with the UTEQ team, Jodi rides at a farm in Burlington called Trinity Trotters Equine. During the summer, she hopes to compete in hunter equitation shows, an equestrian discipline in which riders are judged on their form, skill, and style.
Riding is more than just a hobby to Jodi; it is a career path. "I took a gap year before I started school, and I did work in a breeding farm for racehorses," she says. "That's what I plan to do in the future."
Once she completes her degree, Jodi aims to attend the Irish National Stud, a top-class horse breeding school in County Kildare, Ireland. There, she will learn to train her own pure-bred racehorses before returning to her work with horses here in Ontario.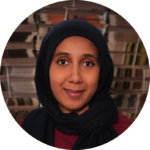 Associate Sports & Health Editor (Volume 49) — Radhia is a fourth-year student double majoring in Biology for Health Sciences and Professional Writing and Communication. She has three years of journalistic experience as a writer in Sri Lanka, and served as Associate Editor for Mindwaves (Volume 16). When she's not writing or studying for midterms, Radhia likes long walks, grey-skied rainy days, and reading children's books (her favourites are Neil Gaiman's Coraline and E.B. White's Charlotte's Web).