Individuality in Fefu and Her Friends

Throwing away gender stereotypes with the characters of Theatre Erindale's latest production.
Like TV shows and literature, we have all seen different works created and performed by women, and they often portray women through lenses that empower and celebrate womanhood. Many literary critics suggest that they "know feminist writing when they see it"—as though there is a list of criteria that "makes" a work feminist. But how can a predominantly "feminine" piece display gender roles?

Written by María Irene Fornés and directed by Brian Postalian, Fefu and Her Friends is a story set in the 1930s about eight women who gather at Fefu's (Rachel Tomasic) home to plan and rehearse for a charity event for education. The play is often identified as "plotless"—we see a day of social gathering unfold from morning to evening, and at times, the story is inexplicable. As such, it becomes a mirror for the often puzzling and inexistent "structures" of life itself.
Fefu, the main character, is an avid believer in the future of the education system. Although she is passionate about making a change, audiences see Fefu struggle with her own concept of femininity and quarrel with her off-stage husband.
Besides Fefu, we meet Cecilia (Nell Senkevich) and Paula (Amelia Woolfrey)—lovers with a complicated and impactful relationship—as well as Cindy (Reese Cowley), Christina (Elif Coşkun), Emma (Molly Botten), and Sue (Bronwyn Keough). They all attend the gathering, offering their individual and well-articulated perceptions on love, sensitivity, societal gender norms, lust, performance, conformity, fear, and much more. Julia (Angel Haines), the final guest at the gathering, is centralized in the play by monologues and her connection to a mysterious past—one that follows a hunting accident, placing her in a wheelchair. Her presence causes tension in the house, and she shows a continual fascination toward Fefu's ever-present half-loaded gun.
Theatre Erindale's production of Fefu and Her Friends blurs the lines that determine gender and touches on concepts of mental illness in a way that connects audiences. Although each character in the play represents a woman, their individual personalities frame them as people who do not follow any specific gender roles. These characters are simply human beings; they move, speak, and act according to their desires. Based on her performance of Paula, Woolfrey shares her thoughts with The Medium on character building.
"[The] characters are distinct and come from different backgrounds, have different goals, and develop specific relationships with one another. We learn about their social, intellectual, financial, and romantic lives. Rather than being a space where masculinity is conspicuously absent, we focus so much on the individual lives of the female characters […] the gendered nature of the play almost fades into the background."
For a play burdened by conflicts, the playwright does not forget about audience experience. Fornés split the play into three parts and intended for part two to involve the physical rotation of audience members. As four scenes unfold in separate rooms simultaneously, the audience would rise from their seats and move around the theatre in groups to watch each scene take place.
"By moving around the house, Fornés rejects the patriarchal idea that women in the private sphere focus on childbearing, taking care of the house, and marriage," says Tomasic. "Instead, the audience is given insight into complex interpersonal relationships between the characters, which [show] these women as complete human beings rather than gender stereotypes." Coşkun also adds that "people act differently in a group than they do […] with people they have some kind of a history with."
Despite the virtual medium of Theatre Erindale's production, the movement from room to room in part two was achieved brilliantly by elegant and seamless camerawork. The camera panned to multiple sides of the house, placing the viewer in each gathering. Through movement, the play intertwines private and public sectors—a tactic that makes audiences reflect on the conflicts.
The final live performances of Fefu and Her Friends will be streamed from March 4 to 6 through Vimeo. Be sure to purchase your tickets now through tickets.sheridancollege.ca.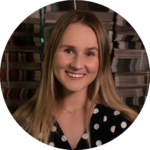 Arts & Entertainment Editor (Volume 49) | arts@themedium.ca — Julia graduated in 2022 with a major in English, and a Professional Writing and Communications and Drama double minor. She previously worked with The Medium as Theatre Erindale Correspondent for Volume 48. As the A&E Editor this year, Julia cannot wait to explore the wondrous world of arts and spark creative conversations amongst student writers. If she's not writing, working, or spending too much money on overpriced iced coffees, you can find Julia singing tunes with her guitar, bingeing Netflix shows, or going on nature walks with her doggo Benji. You can connect with Julia on LinkedIn or Instagram.