Indigenous influencers put a spotlight on culture

Social media has become the modern outlet of storytelling for creators like @Shinanova to share Indigenous traditions and issues.
Social media has evolved from a convenient place to share pictures with your friends into a vast resource of information. It allows anyone to create a strong social media presence and develop a platform that represents their beliefs. This has led to the rise of popular Indigenous content creators who use their platforms to generously share and provide an honest, essential representation of Indigenous culture.
Indigenous culture has a history of misrepresentation in media, which has developed a habit of conforming to stereotypes instead of conducting proper research for an accurate portrayal. People in Indigenous communities need to see themselves represented in media and acknowledged by society. As Michelle Chubb, known as @indigenous_baddie on Instagram, writes: "When I was [a] little girl, I always wondered why there weren't people who looked like me on billboards, TV, you name it. I'm so grateful that the younger generation can […] see someone who looks like them and know that it's possible to achieve their dreams, too."
Indigenous influencers choose to use their platforms to educate others about their culture. Shina Novalinga, known as @shinanova on Instagram, is popular for sharing Inuit traditions—such as throat singing—with her four million followers. She addresses misconceptions, discusses Inuit legends, and wears traditional Inuit clothing in her posts. Novalinga uses her influence to promote other Inuit artists as well. Her popular throat singing videos have led to an album release with her mother. When announcing her album, which was developed with a team of Inuit creators, Novalinga shared on Instagram that she was "so happy to be able to keep [their] traditions alive through traditional songs […] [and they] are taking [their] power back and showing [us] how beautiful throat singing is."
While sharing important traditions, Indigenous content creators also use the accessibility of social media to raise awareness and advocate for pressing issues that affect Indigenous communities. James Jones, found as @notoriouscree on Instagram, is widely known for his traditional hoop dancing. He consistently uses his platform to discuss the effects of residential schools and colonization, the negative implications of Canada Day, food insecurity, and other concerns for Indigenous Peoples.
Chubb, Novalinga, and Jones all bring attention to the difficulties that the Indigenous community face. They also work to share resources that provide more details on these issues and have openly supported many charities that aid the Indigenous community, including other Indigenous artists, organizations, and businesses.
As Indigenous voices have often been silenced and dismissed, Indigenous content on social media prevents further erasure of the Indigenous community. The systemic abuse that Indigenous Peoples face is finally being recognized through their advocation. These influencers highlight Indigenous contributions and share beautiful traditions with millions of people across the world—people who may not have access to this knowledge otherwise.

It is important to support the efforts of Indigenous influencers who educate and encourage others to take part in vital conversations while working to preserve their culture. In Jones' words, "we are still here, we are still practicing our way of life, and our next generation will speak their language, they'll dance, sing, and uphold all their traditions with pride."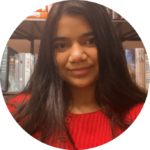 Staff Writer (Volume 48) — Shruti is currently in her second year at UTM and is double majoring in Psychology and English. Aside from trying to meet deadlines, she pours over books, repeatedly watches Doctor Who and Iron Man, bakes, and gets bullied by her cat.