Here to make change: Toufah Jallow inspires social sustainability through sexual violence advocacy

The feminist and human rights activist lived as a protected person in Canada after saying "no" to The Gambia's most powerful man.
The Gambia is the smallest country in West Africa. In 1965, it gained independence from British rule and found a president in Dawda Jawara. Jawara's democratically elected government lasted for nearly three decades before a young junior officer of the Gambia National Army named Yahya Jammeh led a coup to overthrow it. Beginning with a promise to reverse political corruption in 1994, Jammeh would eventually rule The Gambia as a military dictator for the next twenty-three years.
To commemorate the day that saw Jammeh come into power, the country's Ministry of Basic and Secondary Education initiated, during the mid-2000s, the Miss July 22 competition, an annual scholarship beauty pageant for female Gambian students of junior high to college age.
In 2014, a nineteen-year-old woman who escaped the mundanity of her home life with dreams of studying the performing arts abroad won the title of Miss July 22 Queen. Her name is Toufah Jallow.
Jallow met Jammeh alongside other pageant participants when she attended an awards ceremony at the state house shortly after her win. Naïve to the political and social reality of The Gambia, Jammeh impressed Jallow as a fatherly figure, a man who sought to empower women by helping them develop their skills. One year later, Jammeh drugged and raped Jallow in the wake of her refusal to marry him. He had incessantly pursued her with a misuse of power.
At twenty-six years of age, Jallow lives in Toronto and is an aspiring counsellor for assaulted women and children. In 2019, she returned to The Gambia to testify against Jammeh in a public hearing. Earlier this year, Random House Canada published her memoir Toufah: The Woman Who Inspired An African #MeToo Movement. In the book, as she does in life,Jallow takes a stand against rape culture to voice the experiences of women who would otherwise remain unheard.
On November 10, 2022, Jallow delivered a lecture on women's ability to create a more equitable global future as the keynote speaker for the Sustainability Leaders' Series (SLS). SLS is an annual lecture series on topics related to environmental, economic, and social aspects of sustainability hosted by the Master of Science in Sustainability Management (MScSM) program at the Institute for Management & Innovation, University of Toronto Mississauga (UTM).
MScSM welcomed Jallow to its first in-person SLS event in three years. During Covid-19 pandemic restrictions, SLS events were held virtually.
Professor Amrita Daniere, vice-principal academic and dean at UTM, opened the session with her welcome remarks. Founder and the current director of the MScSM program, Professor Shashi Kant introduced Jallow: "Most of the time leaders get strength not from their inner self but because of the position they hold. […] Toufah is a leader who is driven by her inner strength," he said. "She had that inner strength, that, 'I'm going to run from my country, doesn't matter where I will end up,' and she did that, and she did it without telling her parents."
Jallow fled to Senegal from The Gambia on the possibility that Jammeh's agents would kill her for hurting his dictatorial pride—the result of resisting forced marriage to him. Marriage in African culture is largely a gender-role activity prescribed to women. In the Muslim context, men may take up to four wives. The Gambia is a Muslim-majority country.
The question arises: where did Jallow, raised in an environment with little growth and economic opportunity for women, find the mentality and courage to say "no" to her home country's most powerful man?
"My grandmother choosing to […] insist that her daughter goes to school in a culture that tells her her daughter's education is not important while she watches all her neighbours send their girls to get married to the richest man […] in the community—that is peak resistance," Jallow shared in her speech.
Jallow's mother, being born out of that quiet form of feminist resistance, crafted her way around the limiting polygamous setup to go to school, have a secret abortion, and raise Jallow with eyes to recognize the power dynamics between men and women.
Individual stories like that of Jallow's mother, and of Jallow herself are as she explains, "where the bigger conversation about sustaining global progress comes in."
From listening to the stories of sexual violence survivors in the International Criminal Court in The Hague, to working with Gambian women through The Toufah Foundation, and emerging forward-thinking female movements, Jallow has realized that feminist revolutions are catalysts "for moving forward, whether it's for democratization, whether it's for justice, whether it's for freedom."
Using the Iranian example of Mahsa Amini, a single story opened for society is enough to incite widespread action for social justice. Jallow therefore helps women embrace their stories, talks about bodily autonomy with them, and discusses ways they can contribute to their communities and ultimately have a voice on a bigger scale.
"As you think about sustaining the #MeToo movement, think about […] whatever it is that we are aspiring for would require our ability to step out of our shoes to hear my story, to listen to girls like that, who might not be able to speak as eloquently," Jallow says.
Hearing from Jallow through SLS was a powerful experience for MScSM student Hannah MacRae. "What I find most inspiring about her is that after experiencing one of the most traumatic events imaginable, she continues to challenge herself and continues to help others," she says. "Toufah reminded me that I have an important message to spread, and a moral obligation to do so. Witnessing her set an example by telling her story has given me more courage to speak up for my own values in every area of my life."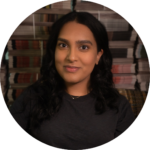 Sports & Health Editor (Volume 49)| sports@themedium.ca — Alisa is a third-year student completing a major in Professional Writing and Communication with a double minor in Political Science and Cinema Studies. She served as Editor-in-Chief of Mindwaves Volume 15 and Compass Volume 9 and was a recipient of the Harold Sonny Ladoo Book Prize for Creative Writing at UTM. Her personal essay, "In Pieces," appears in the summer 2020 issue of The Puritan. In 2022, she published her first poetry chapbook, Post-Funeral Dance, with Anstruther Press and wrote for The Newcomer as a journalist. When Alisa isn't writing, she's probably reading historical nonfiction, ugly-crying over a sad K-drama, or dreaming of places far, far away.