Governments failing to commit to environmental goals as global climate crisis brews

Two United Nations proceedings highlight insufficient global climate action initiatives while also introducing new targets and solutions to meet net-zero emissions goal by 2050.
The most recent report on climate change—released October 27, 2022 by the United Nations (UN)—states that the world's powers have failed to meet the goals set out by the 2015 Paris Agreement, which aims to limit global warming to two degrees Celsius at most by 2050. Based on current policies, we are now looking at a 2.8 degrees Celsius increase in global temperatures by the end of the century, with the best possible outcome of 2.4 to 2.6 degrees Celsius increases.
To meet the aforementioned objectives of the Paris Agreement, greenhouse gas emissions need to be decreased dramatically. The Emissions Gap report stipulates that the world must cut emissions by 45 per cent in order to prevent a climate disaster. Current Nationally Developed Contributions—which are countries' climate action plans—can only reduce emissions by five to 10 percent leading up to 2030, a meager result, compared to the intended 45 per cent.
To reach the 45 per cent threshold for emission cuts, it is stated in the Emissions Gap Report that many changes are needed in the electrical supply, industrial, transportation, and construction sectors. Systemic reforms in the food and finance sectors are also necessary.
To address these climate issues, the 2022 United Nations Climate Change Conference (COP27) is taking place from November 6 to 18 at Sharm el-Sheikh, Egypt. The location was chosen to draw attention to African nations, which often experience the worst effects of climate change.
More than 100 world leaders are currently meeting in the Egyptian city to address climate change. However, China's Xi Jinping and India's Narendra Modi, the world's largest and third-largest carbon emitters respectively, are the most noticeable absentees. Additionally, Canada's Justin Trudeau is also absent.
UN Climate Change Executive Secretary, Simon Stiell, delivered the COP27 opening remarks on November 7, declaring that "we are in the fight of our lives, and we are losing. Greenhouse gas emissions keep growing. Global temperatures keep rising." Stiell believes that vulnerable communities are the most severely impacted by climate change. He also calls for assistance to Pakistan, which is facing food insecurity due to flooding.
The most contentious issue at the conference is that wealthy, developed nations—who account for a significant share of greenhouse gas emissions—should offer compensation to vulnerable, developing countries that face the consequences of climate change despite contributing minimally to it.
French President Emmanuel Macron echoes this statement in his speech on November 7, declaring that "we see a number of states that are struck by the consequences of climate change […] they have shown us once again that the climate emergency is here." He adds that, "we will not sacrifice our climate targets in the face of war raged by Russia." He also highlights the European Union's "Fit for 55" plan to reduce its greenhouse gas emissions by at least 55 per cent in 2030. According to the plan, divesting from fossil fuels and further relying on renewable energy is paramount to driving positive change.
Ukrainian President Volodymyr Zelenskyy also gave a speech at the summit on November 8, stating that "there can be no effective climate policy without the peace on Earth." Notably, Zelenskyy states that the Russo-Ukrainian war has destroyed "five million acres of forests in Ukraine in less than six months."
On November 8, the use of sustainable energy was discussed to reduce emissions. Renewable energy sources, such as hydrogen—which only emits water when used as a fuel—have been highlighted potent options to reach net-zero emissions.
In response to the catastrophic effects of climate change on vulnerable people worldwide, COP27 President Sameh Shoukry launched the Sharm-El-Sheikh Adaptation Agenda during the summit. This agenda offers 30 Adaptation Outcomes to improve the climate resilience of four billion people living in vulnerable regions by 2030.
As leaders and experts continue their discussions at COP27 until November 18, the world awaits new plans and initiatives to address the ongoing climate crisis.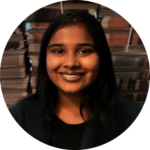 Staff Writer (Volume 49) — Angelina Jaya Siew is currently in her first year at UTM, seeking to specialize in Criminology, Law and Society and minor in French. After completing her secondary education in Trinidad and recently moving to Canada, she started writing for The Medium as a way to to highlight important global issues and encourage debate on controversial topics. When Angelina is not writing or studying, she is reading the latest mystery novel, travelling to different countries, or getting her almond milk vanilla latte at Starbucks.