From past to present: Blackwood Gallery and the continuous evolution of art

Celebrating Blackwood Gallery's history and future in conversation with Helen Yu.
It is hard to miss the name Blackwood Gallery around campus. You will often hear about the gallery's programs, see its art displays, or pass by its exhibition spaces. However, the history behind its name often goes untold.
Blackwood Gallery is an art gallery on campus that features contemporary art and new media by professional artists, including graduating students of the art and art history program. You can find the gallery in room 140 of the Kaneff Centre, in an extra e|gallery on the ground floor of the Communication, Culture, & Technology (CCT) Building or check out the lightbox displays outside the William G. Davis Building. But these places were not always home to parts of Blackwood Gallery. When the University of Toronto Mississauga (UTM) was established in 1967 as Erindale College, the campus' first gallery was just a small corridor in the Temporary Building, the place which we know today as Maanjiwe Nendamowinan.
David Blackwood, the gallery's namesake, is an acclaimed Canadian artist known primarily for his works in printmaking and depictions of Newfoundland landscapes. Because of national and international exhibitions of his work, as well as his efforts toward Canada's cultural community, Blackwood was awarded the Order of Canada and named Honorary Chairman of the Art Gallery of Ontario (AGO), among other achievements.
Blackwood's connection to UTM began in 1969 when Erindale's second principal, J. Tuzo Wilson, received "The Burning of SS Diana"—a triptych etching by Blackwood—as a gift from his wife, Isabel Wilson. Two phone calls later, Wilson offered Blackwood a house on campus and a studio in exchange for sharing his artwork with the Erindale community. This deal began the Artist-in-Residence program, which let Blackwood stay at the Artist's Cottage—now converted into the Crime Scene House for UTM's forensics program—while he contributed his art to the school. From 1969 to 1975, Erindale was Blackwood's home. But his connection to campus continued when Blackwood Gallery, named in his honour for his contributions, officially opened in 1992.
Although Blackwood was at Erindale College for so many years, the scarce amount of information about his time there surprised Helen Yu—a fifth-year student majoring in professional writing and communication (PWC) and English. In search of a topic for her history and writing course, Yu recalled that the gaps of information about Blackwood Gallery were what held her interest. Why didn't the gallery have any of Blackwood's art? Why was the gallery named after him? Yu's search for answers only raised more questions.
"What I found really weird was that when I was reading these books [about Blackwood], they completely glossed over his time at Erindale," Yu said. "But there was a whole [unrevealed] history of the gallery itself, [of] David Blackwood's relationship to Erindale, [and of] his bond with Tuzo Wilson.
The mystery behind these missing years sparked Yu's pursuit of research into the name behind the gallery. After independent research, as well as interviews with Blackwood's colleagues, his wife Anita, and Blackwood himself, Yu shares her findings in her publication "In Search of David Blackwood: Erindale Artist-in-Residence (1969-1975)" for Compass Volume 8—one of PWC's annual journals. Yu's piece explores the gallery's beginnings and evolution, Blackwood's family, and other notable stories involving destroyed exhibitions and controversial portraits.
Since those days, Blackwood Gallery's rich history has continued to grow. Today, you can visit the gallery and look forward to their on-going and upcoming exhibitions. The "2021-22 Lightbox Program" will run six image sets that "confront critical issues in contemporary visual culture," as described on their website, from September 2021 to July 2022. Artists-in-Presidents: Transmissions to Power features 21 artists who will share performances of power through audio; initiated by Constance Hockaday and curated by Christine Shaw, this project is released every Friday from August 6 to December 17, 2021. SDUK09: Diffusing is the ninth issue of Blackwood Gallery's broadsheet, published in June 2021. In conversation with the original Society for the Diffusion of Useful Knowledge, the gallery's website says, "[The issue considers] DIFFUSING: how circulation, dissemination, opacity, transparency, and anonymity shape the way knowledges, materials, and media are transferred." Lastly, launching in spring 2022, is Blackwood Gallery's "Lyfeboat Prototype". Built by artist Sean Procyk, this sculpture is a fully functioning boat intended for practical and educational community use.
"Blackwood believes in celebrating art for how it makes people think and feel, rather than only for aesthetic beauty," Yu writes in her Compass publication. "He sees art as an ongoing conversation, always evolving with no true finale."
As Blackwood Gallery changes to create new discussions with every art project or display, the history behind that little corridor continues.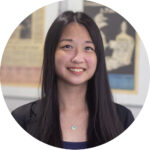 Arts & Entertainment Editor (Volume 48) | arts@themedium.ca —
Danica graduated with a double major in Professional Writing and Communication and English in 2021. She has been with The Medium since Volume 46 as Associate Arts & Entertainment Editor. This year, she is excited to work as A&E Editor and looks forward to exploring the timelessness of art forms and showcasing student talent. If Danica is not taking a nap or pulling out her hair trying to write, she spends most of her time binging shows and movies, dancing, or playing video games (often with a bubble tea in hand).