The Case of Lost Motivation

Fatigue is found to be the main contributor to lost motivation and what we know as 'academic burnout.'
With a new semester starting in just a few weeks, many students are motivated and excited to continue their university careers. But for some students this burst of motivation is a temporary phase. Soon enough, undergraduates and graduates across the campus will find themselves suffering from what is known as academic burnout.
According to University of the People, academic burnout is "a negative emotional, physical, and mental reaction to prolonged study that results in exhaustion, frustration, lack of motivation, and reduced ability in school." Despite being perceived as just bouts of tiredness, burnout is in fact a determining factor in psychosomatic problems, which might present themselves as headaches, insomnia, and depression.
But what causes this academic burnout? A report by The University of Birmingham found that fatigue is the culprit. They concluded that two types of fatigue in distinct parts of the brain contributed to burnout. A short-term feeling of fatigue, that can be overcome by a short rest, and long-term feelings of fatigue in which individuals typically feel compelled to give up their work and quit.
In the experiment conducted by researchers at the University of Birmingham and the University of Oxford, results showed that despite being offered a greater reward for doing more work (after being fatigued), some still opted to choose to rest and do less work for a smaller reward.
Through analysis of MRI scans, the researchers concluded that areas in the brain's frontal cortex—an area known as the ventral striatum—displayed fluctuations in activity that signalled how fatigue was playing a role in people's motivation to continue their work. In essence, the amount of fatigue we endure can determine whether we are motivated and willing to do more work.
In situations where individuals are exceptionally fatigued they are willing to settle for little to no rewards just to get a break from work. Have you ever been willing to hand in an assignment late or produce less than optimal work because you just cannot do it anymore? This feeling is the impact of fatigue on the brain and, without action, it will continue to negatively affect performance and motivation.
So how do we break this cycle of fatigue and stay motivated for longer? There are a few solutions to this problem including identifying a clear purpose that you are ambitious about, setting measurable and attainable goals, and thinking about the impact your work will have on yourself and others.
Other ways of relieving burnout can come from taking time off, changing your routine regularly to avoid boredom, and getting enough sleep. Also try to schedule time for exercise, activities that you enjoy, and participation in social events both in-person and online.
It is important to acknowledge and reach out for help if you feel fatigued or burnt out. Seeking aid from therapists, friends, family, or teachers is a huge step to getting out of the situation. Also reach out to instructors or supervisors, inform them of the situation, and request an extension to turn in your work.
By paying attention to how you feel mentally and physically, you can identify when you are fatigued and reach a solution that can break yourself out of academic burnout. UTM offers a wide range of resources such as free anonymous counselling sessions from the Health and Counselling Centre, a 24-hour talk line with My Student Support Program, drop-in sessions at the Recreation, Athletics & Wellness Centre, and advising appointments to support your academic or financial issues. These support systems can help you cope with stress and mental health if you feel fatigued and overwhelmed by work.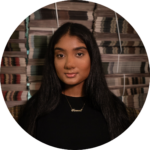 Opinion Editor (Volume 49) | opinion@themedium.ca — Kareena is a third-year student completing a double-major in Criminology and Socio-Legal Studies and Philosophy, and minoring in Forensic Science. She has previously served as the Associate Opinion Editor for Volume 48. Through her involvement and contributions with The Medium, Kareena hopes to foster a safe and trusted space, while encouraging others to let their voices and stories be heard. When Kareena is not writing or studying, you can find her watching true crime mysteries or cooking.