An Interview with Alicia Brown, U of T's Olympian Track Star

Olympian Alicia Brown discusses her athletic roots, the role UTM played in her career, and the support Canada showed her team.
After she placed fourth in the women's 4x400m relay at the Rio 2016 and Tokyo 2020 summer Olympics, UTM alumna Alicia Brown reflects on her time on campus and her athletic journey.
Brown began her undergraduate degree at UTM in 2008 in the Communications, Culture & Information Technology program and, thirteen years later, is still active in the U of T community with her position on the Hart House Wellness, Fitness and Recreation team. "I met some of my closest friends at UTM," says Brown.
While studying at UTM, Brown also ran track for the St. George Varsity Blues where she met the Track & Field Assistant Coach and her current coach, Bob Westman. Westman was able to join Brown in Gifu, Japan for the pre-Olympics staging camp for the 2020 Olympics.
Always an athletic person, Brown grew up playing soccer. "My mom found this project that I wrote when I was nine. […] [It asked] "what do you want to be when you grow up?" and I wrote about wanting to become an Olympian," says Brown. While in high school, Brown was recruited by the head coach of Athletics Canada, Glenroy Gilbert, to join the track and field team. Having shown success and promise on the track, Brown decided to trade her soccer cleats in for some running shoes and spikes to focus on her athletic career as a track star.
Joining the Canadian Olympic team in 2016, Brown placed second in the 400m at the Canadian Olympic qualifiers. At the finish line she was unaware that she had made the Olympic team, then she looked up at the clock and realized that she would soon be an Olympian. "That was one of my favourite track and field memories," Brown says about the surreal moment of fulfilling her childhood dream.
Brown and her fellow Olympians experienced a different Olympic atmosphere with restrictions put in place due to Covid-19. During Tokyo 2020, Olympians stayed in social bubbles and ate between plastic dividers. Although they did not have the same opportunity to experience Tokyo's culture and mingle with teams from other countries, "the Olympic spirit was still very much there," says Brown.
The training experience was altered as well, with athletes gaining an extra year to prepare as the 2020 Olympics were postponed due to the pandemic. "We spent the last year and a half training outside in the winter or running in the stairwells of our apartment buildings," says Brown.
Brown and her teammates placed fourth in the Women's 4x400m relay in Tokyo 2020, bringing national pride home to Canada. Her team finished less than half a second behind team Jamaica who won the bronze medal.
Brown was overwhelmed with love from all the support she and the rest of team Canada felt while in Tokyo. "The stands were quiet, but we knew that everyone was standing on the line with us," says Brown.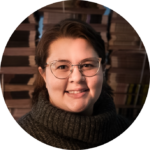 Associate Features Editor (Volume 48 & 49) — A recent graduate from UTM, Dalainey is currently working on completing her post-graduate studies in Professional Writing in Ottawa. She previously served as Staff Writer for The Medium's 47th Volume and as Associate Features Editor for Volume 48. Through her passion for languages, Dal hopes to create a fun and inviting atmosphere for readers through her contributions to the paper. When she isn't working, Dal focuses on developing digital art and writing her first novel. You can connect with Dal on her Instagram or LinkedIn.