Canada Black Owned Marketplace makes strides in the retail industry

CEO Janice Pancho, highlights the importance of Black representation in retail and shares the organization's successes, challenges, and future goals.
The Canada Black Owned Marketplace is an e-commerce and in-person platform that sells products and goods from Black-owned vendors. Established in 2019, the marketplace currently has physical stores at Erin Mills Town Centre, Pickering Town Centre, and Bramalea City Centre (temporarily closed since December 28, 2022), operating alongside its virtual shopping site.
In conversation with The Medium, CEO of the Canada Black Owned Marketplace, Janice Pancho, explains that the marketplace initially launched as an e-marketplace during the Covid-19 pandemic. Due to high demand, physical stores opened with a "multi-vendor" concept. She states that a large number of Black entrepreneurs lack the opportunity to open a brick-and-mortar store to sell their product. This is where the Canada Black Owned Marketplace comes in—being a place "to feature local business owners' products to clients," akin to "a mall within a mall."
"We [the Black community] believe that we are faced with barriers [in society]," says Pancho, highlighting her prime reason for launching the Canada Black Owned Marketplace. "We want to build wealth within our own community," she explains, outlining her hope for the Canada Black Owned Marketplace to help minimize the wealth gap between the Black community and others in Canada. Pancho and her team created the organization to "bring everyone together in a cohesive platform to collaborate." She adds that "divided, we are not strong, but together, we are strongest."
Pancho says that "[The Canada Black Owned Marketplace's] mission is to help Black entrepreneurs to build wealth, to be great business leaders, to manage finances, [and] to live a comfortable life." The organization assists Black entrepreneurs as young as 15 years old in areas such as business plan creation, so that they can launch successful businesses.
A wide variety of goods from numerous Black-owned businesses are offered at the Canada Black Owned Marketplace. Pancho outlines that "The items that we have are hand-made, hand-crafted, and curated by our Black vendors." Vendors produce candles, skincare products, art, jewelry, clothing, and food items—such as pepper and ginger beer, all reflecting African and Caribbean culture. Additionally, Black ancestry publications by local authors are sold. The marketplace is constantly expanding, and all Black entrepreneurs are welcome to start the application process through the company's website if they would like to register as a vendor for the Canada Black Owned Marketplace.
Pancho remembers the challenges the Canada Black Owned Marketplace encountered in securing start-up funding, as no financial support was offered to the organization during its set up. All expenditures were paid "out of pocket" by the organization's founders.
Therefore, to improve Black representation in the local retailing industry, Pancho believes that more state funding is imperative. Many Black entrepreneurs require financial help to successfully launch their businesses. Additionally, Pancho emphasizes the importance of having workshops that focus on business plan creation and building financial literacy accessible to aspiring Black business owners.
Apart from financial support, the Canada Black Owned Marketplace has also encountered other barriers. "We have encountered people that are surprised to see us," remarks Pancho, who contends that there were negative responses to the marketplace since some thought it was restricted to the Black community. However, Pancho refutes this claim, emphasizing that "Our store is open to everyone." Prospectively, she hopes to change the public's perception that "Black-owned" means "Black only," and asserts that the Canada Black Owned Marketplace welcomes all ethnicities, ages, and races.
Nevertheless, the positive reactions garnered by the organization, particularly within the Black community, far outweigh any negative outlooks. Pancho notes that the Black community enjoys shopping from the Canada Black Owned Marketplace as they feel more connected to their Caribbean and African roots. The strong support from customers motivates Pancho and her team to "keep going" and "keep pushing."
The organization has several plans to celebrate Black History Month. Among them is a Celebrating Black Excellence in Entrepreneurship event taking place at the Pickering Library on February 4, 2023, where Pancho will be discussing her experiences in entrepreneurship. There will also be a "Children's Story Time Session" at one of the physical stores to educate youth about the importance of Black History Month.

"We are here to stay, and [we] appreciate the support that the community has given us," affirms Pancho. In the long term, she hopes that the organization can open more outlets in different provinces, thus enabling more of Canada's Black population to enjoy a wide variety of products and feel represented in the retail industry.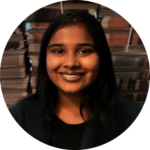 Staff Writer (Volume 49) — Angelina Jaya Siew is currently in her first year at UTM, seeking to specialize in Criminology, Law and Society and minor in French. After completing her secondary education in Trinidad and recently moving to Canada, she started writing for The Medium as a way to to highlight important global issues and encourage debate on controversial topics. When Angelina is not writing or studying, she is reading the latest mystery novel, travelling to different countries, or getting her almond milk vanilla latte at Starbucks.