Becoming a published author through WRI420: Making a Book

Student authors share their journey of book publishing.
Most writers growing up have at least had a passing thought of one day writing and publishing a book. Students in the professional writing and communication (PWC) program at the University of Toronto Mississauga (UTM) have the opportunity to fulfill their goals of future authorship. An interactive course on campus, WRI420: Making a Book helps these aspiring students achieve those professional dreams.
Taught by PWC program coordinator and associate professor Guy Allen, WRI420: Making a Book instructs students on the principles and industry standards of book publishing. Students work alongside other aspiring authors to strengthen each other's writing and learn how to use advantageous programs like Adobe InDesign to stylize and format their publications.
Adobe InDesign is a digital design software that aids writers in the book publishing process. Professor Allen's course helps students navigate the software and learn proper formatting, text sizing, fonts, and margin sizes. Additionally, students work together through the design process, helping create their original books' cover pages. 
Students enrolled in WRI420: Making a Book, which is limited to students in the PWC program, also work with professionals in the field of publishing. Students are tasked with hiring a copy editor to help with the publication process at their own expense. Professor Allen provides students a list of recommended copy editors, including freelance editors who have recently graduated from the course.
Complete artistic creativity is given to students. Some choose to write fiction, while others choose the path of publishing creative non-fiction books.
"My book is a love letter to my family," shares Adelaide Chan, a recent alumna of the PWC program, about her fiction book, The Good Fight. "It's always what I wanted to share."
Originally beginning her UTM journey in the digital enterprise management (DEM) program, under the communication, culture, information, and technology department (CCIT), Chan knew writing was in her future. In the summer of 2019, she decided to change her academic path and enroll in the PWC program.
"Writing has always been on the back burner for me, and I didn't know what to do with that passion. I just had to take the opportunity and get into the class," says Chan. The Good Fight reflects on her relationship with Christianity. "It's my personal journey with God and a whole host of my childhood experiences," continues Chan.
Nabila Dinarsakti, another recent alumna from the PWC program, also published her book, You'll Be Okay: Short Stories and Reflections on Identity and Belonging, during Professor Allen's course.
"It's stories in my life where I tried to figure out my identity and the intersection between being Indonesian-American and Muslim in a Canadian environment," shares Dinarsakti.
However, Dinarsakti's writing journey for WRI420 did not start with a book on identity. At first, she intended to write a research-based book on productivity while incorporating personal references on the topic. While in editing circles with other students in the course, Dinarsakti was vulnerable with her classmates, and changed the direction of her publication.
"It was really scary," adds Dinarsakti. "I never really planned on publishing these stories."
Dinarsakti and Chan agree that Professor Allen's course is challenging and fast-paced. According to Chan, students are expected to have their manuscript ready by the time the course begins. That's because, during lecture times, students learn "about Adobe InDesign and the industry standards for typesetting creative non-fiction," adds Dinarsakti, explaining that the course format was more interactive than other courses she has taken at UTM.
The publication process is not as difficult as one may think. "Publishing a book isn't that expensive, it's the copy editor that uses most of your budget," explains Chan. Students ready to publish their books simply upload their Adobe InDesign layouts to Amazon for their supporters to purchase.
Although sharing personal stories with the world can be daunting, "[Professor Allen's course] was an opportunity to tell my story even though being so vulnerable is challenging," expresses Dinarsakti.
While reflecting on their experiences in the course, Chan and Dinarsakti want to give advice to students currently enrolled in WRI420: Making a Book. "Make sure to finish things early and write whatever comes to you," says Chan. "Find a copy editor that sees themselves in your work and respects your work," reflects Dinarsakti, explaining that it always helps to have someone as passionate as yourself on your team.
The WRI420: Making a Book course acts as a steppingstone for PWC students, giving them the tools and drive needed to write and publish a book.
"I do have ideas for my next book, but I don't want to give too much away," chuckles Chan.
Support your published UTM alumnae by buying a copy of The Good Fight and You'll Be Okay: Short Stories and Reflections on Identity and Belonging from Amazon.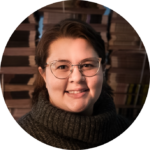 Associate Features Editor (Volume 48 & 49) — A recent graduate from UTM, Dalainey is currently working on completing her post-graduate studies in Professional Writing in Ottawa. She previously served as Staff Writer for The Medium's 47th Volume and as Associate Features Editor for Volume 48. Through her passion for languages, Dal hopes to create a fun and inviting atmosphere for readers through her contributions to the paper. When she isn't working, Dal focuses on developing digital art and writing her first novel. You can connect with Dal on her Instagram or LinkedIn.