All the snubs and buzz of the Academy Award nominations

The film choices of 2022 spark conversation surrounding the Oscars.
The 2022 Academy Awards—more commonly known as the Oscars—are fast approaching, and the live ceremony with a full auditorium (no vaccination proof required) will take place on March 27. Keeping with tradition, the nominations were announced nearly two months before the ceremony, giving the public just enough time to react, rave, and rant about how the Oscars are dying anyway. While some films were released both in theatres and on streaming services, the return of theatres in 2021 meant that the Oscar campaigns felt much more normal than they did in 2020, which also meant there were many opinions.
Starting with the Best Picture category, the largest of them all with ten nominations, there were the obvious frontrunners like Jane Campion's The Power of the Dog and Steven Spielberg's version of West Side Story. Some films that came as a surprise were Drive My Car produced by Teruhisa Yamamoto and Adam McKay's Don't Look Up. Drive My Car made history by becoming the first Japanese film to be nominated for Best Picture; many people thought it would be overlooked as foreign-language films often are. Don't Look Up, despite its all-star cast full of Oscar winners, was not the first pick for a Best Picture nomination considering the Academy's history of snubbing comedic films regardless of their cast or style. Any film that is not deemed a serious drama is often left for the Golden Globes or another public-voted award ceremony.
Meanwhile, there was an exciting change of pace for the much-anticipated acting categories—including Andrew Garfield's nomination for Actor in a Leading Role with his portrayal of musical theatre writer and legend Jonathan Larson in tick, tick… BOOM! What is so refreshing about this nomination is the recognition of an acting performance in a new musical (even though the rest of the film lacks nominations in other major categories). The Academy tends to take new musicals seriously once every 10 years, so to see this phenomenal performance acknowledged was thrilling. Additionally, Ariana DeBose received her first nomination for her first-ever lead role in a motion picture. The original 1961 West Side Story was a hit at the Oscars, so it is no surprise that Spielberg's adaption was as well. With both Garfield and DeBose, it was a great year for musicals on screen and these nominations reflect that.
Other surprises, or snubs depending on how someone might look at it, would be the major lack of nominations for House of Gucci, which had an immense amount of marketing behind its release but was met with mixed reviews. The only major category House of Gucci was still campaigning for was Actress in a Leading Role. The campaign was entertaining and extensive as Lady Gaga did rounds of press declaring how method she went for the role—all for the Academy to leave her and the film out. Another shock was the Directing category, which left out supposed frontrunner Denis Villeneuve for Dune (although the film was still recognized in the Best Picture category).
With all these surprises, the one thing we did expect was the amount of discourse surrounding the nominations, which are always eventful, topical, and often deemed overrated. For an award that is always threatened, as well as told that it is on its way out and does not hold the same value it did years ago, the Oscars still get people talking. Now, we will see if all the people talking will be watching.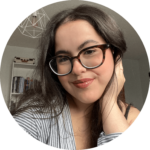 Associate Arts & Entertainment Editor (Volume 48) — Ciera Couto is a recent graduate from the University of Toronto, she earned her Bachelor of Arts in Drama and Dramaturgy, with minors in both Cinema and Women and Genders Studies. She has been writing creatively for years and has recently been published in different Canadian magazines and journals. Ciera spends her time reading, writing and listening to Taylor Swift on repeat. You can see her portfolio here, connect with her on LinkedIn, or contact her at cierac87@gmail.com.