A mosaic of womanhood in Collective Rage: A Play in 5 Betties

The English and Drama Student Society's cast pours their hearts into their characters to show the beauty of change.
Betty is mad, Betty is confused, Betty is inspired, Betty is hurt, and Betty is everything. On March 11 and 12, UTM's English and Drama Student Society presented a production of Jen Silverman's 2018 play, Collective Rage: A Play in 5 Betties, with both an in-person and virtual audience. Co-directed by Reena Goze and Sydney Scott, the show successfully confronted its audience with womanhood in all its glory. The directors took the vibrant script and brought it to life in an exciting and intimate way, in a way that could both intimidate an audience as well as pull them in.
The play follows five women, all named Betty, over a short amount of time as their lives change rapidly and dramatically. Each Betty represents a version of womanhood that is unique, expressing all at once different levels of femininity, masculinity, vulnerability, and strength. It feels like flawless casting as every one of the young actors fully embodied their Betty with heart.
Chelsea Mathieu as Betty 1 shows us the power of rage and the importance of channelling it properly. Her character feels betrayed by the world she lives in and unsafe in most situations, so much that she is willing to change her life to feel in control.
Marissa Monk as Betty 2 gives us comic relief throughout the production as she is a woman who fears her own femininity; it takes the women around her to show her the strength it brings. Although Betty 2 is comical, Monk reveals a side of her that is melancholic at times and shows that loneliness is a powerful tool for change.
Nasim Sedaghat-Ramirez comes in blazing as Betty 3. Her character is headstrong and confident, showing a woman on a mission to change her life for herself and not for anyone else. Sedaghat-Ramirez lets us know that Betty 3 is serious, even when not taken seriously.
Juliet Spizzirri is the perfect Betty 4, soft-spoken but sincere. Here, we see a woman who doubts herself and her relationships but never strays from what she feels. Spizzirri understood that Betty 4 is not a passive character, instead, she is a character that leads with her heart all the way to clarity.
Finally, Nell Senkevich is the abrasive and charming Betty 5. Betty 5 is a character who seems so sure of herself that you would not expect change, yet Senkevich gives her so much nuance and room for growth that is brought out beautifully in the performance.
Collective Rage: A Play in 5 Betties is about womanhood in all its forms, but this production really highlights the ability to change. Every single one of our Betties goes through a transformation of sorts and grows from their experiences. The entire show feels therapeutic as it allows the audience to experience the lives of all five Betties. It was a great combination of comedy, melancholy, and most importantly, heart.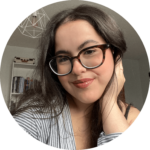 Associate Arts & Entertainment Editor (Volume 48) — Ciera Couto is a recent graduate from the University of Toronto, she earned her Bachelor of Arts in Drama and Dramaturgy, with minors in both Cinema and Women and Genders Studies. She has been writing creatively for years and has recently been published in different Canadian magazines and journals. Ciera spends her time reading, writing and listening to Taylor Swift on repeat. You can see her portfolio here, connect with her on LinkedIn, or contact her at cierac87@gmail.com.