Aishwarya Nair's journey to becoming UTM's 2022 valedictorian

Nair reflects on her undergraduate experience and the honour she feels representing her graduating class.
In May 2022, while working at the Residence Services Desk at the University of Toronto Mississauga (UTM), Aishwarya Nair received a formal email letting her know that she had been nominated as UTM's valedictorian. Attached to the email was a letter from Dr. Alexandra Gillespie congratulating her on her accomplishment. After completing a neuroscience specialist with a double minor in biology and philosophy, Nair finished her time at UTM by representing the graduating class of 2022.
Having grown up in Nigeria, South Africa, and India, Nair moved to Canada in 2018 to pursue her undergraduate degree at UTM. "I have always been passionate about neurosciences," says Nair. Her closely related high school courses only confirmed her passion for the subject.
Moving to a different country was a drastic and scary life change, but Nair reminiscences on a fond memory of her arrival in the country—thanks to the community at UTM. "I was welcomed into the UTM community with open arms, and things panned out pretty well," she shares.
Selecting a valedictorian is a confidential process that allows hard-working students to shine through their achievements. Students are unable to apply for a valedictorian nomination. Rather, a specialized team identifies UTM students whose community involvement, extracurricular activities, and academic achievements make them stand out from the student body.
For Nair, the mystery of UTM's holistic nomination process added magic to being named valedictorian. "It makes it that much more honest and real," says Nair, "students aren't able to crack the code or try to do things just to get the award." This allows students to push themselves and get involved in activities that they are truly passionate about, rather than joining clubs and academic groups that they think may look good on an application.
Nair holds many UTM memories close to heart. Although Nair confesses to sometimes feeling homesick while living in Oscar Peterson Hall, Nair created close friendships with those living on her floor. Eating, studying, and hanging out with them in the common area became a ritual that Nair looked forward to.
"Especially being an international student, living in residence and making these friends was a crucial part in me feeling part of the student community," she explains
Nair encourages students to join campus activities and events. She first got involved on campus by working as a Residence Services Assistant for two years. "I was positively overwhelmed by all the support there to welcome me and other students, which eventually led me to work with UTM residence and wanting to be an integral part of their process."
Nair notes that finding extracurricular and volunteer opportunities on campus was not as difficult as she first thought. While nobody would directly approach her to join their initiative, the halls of many UTM buildings were lined with posters and advertisements for opportunities. Nair explains that this is how she got involved in Research Opportunity Programs (ROPs). While walking through the Davis building, a poster advertising ROPs caught her eye. Unaware of what ROPs were, Nair delved into researching the program and its application processes.
"U of T is so full of opportunities to get involved that the biggest mistake is to not say yes to one," shares Nair.
Participating in such programs helps build students' confidence, and Nair is a testament to that. Being the only undergraduate student in the room was daunting, but Nair is grateful that she was able to experience this during her ROP. "In your first and second year of university, you feel like a little fish in a big pond, and at the time I had no idea what the expectation[s] were," says Nair, "but the experience was a great way for me to gain confidence in knowing that I could survive in a scientific space."
Students face daily challenges, but the graduating class of 2022 faced one unique to graduates of recent years. For Nair, the obstacles that were most impactful were those beyond her control, especially the pandemic. She points out that navigating work, school, and life responsibilities through the effects of Covid-19 was her biggest test—one that she could not have prepared for.
"The moment I gave my speech, with everyone listening to what I had to say, was scary, but also extremely fulfilling. My role there was not to solely celebrate my own successes, but those of our graduating class as a whole," says Nair.
After graduating, students often struggle with what to do next. "You aren't alone," reassures Nair, "just like many, I don't have a clear answer for you in terms of what's next, but I am pursuing medicine, which is a long-term mission." As an international student, there are many things to consider before beginning medical school. "There are financial aspects, there are also eligibility concerns because many schools don't accept international students," explains Nair. Currently, Nair is gaining work experience in healthcare. She also wrote her MCAT—all steps toward achieving a future in medicine.
Nair's inspiring journey is one of passion, hard work, and active involvement. Humbled by the honor of representing her graduating class, one thing is for sure: being the class of 2022's valedictorian is something Nair will cherish for the rest of her life. "It was not about me—it was about the student community and that's an honour I will always hold on to."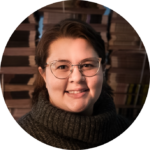 Associate Features Editor (Volume 48 & 49) — A recent graduate from UTM, Dalainey is currently working on completing her post-graduate studies in Professional Writing in Ottawa. She previously served as Staff Writer for The Medium's 47th Volume and as Associate Features Editor for Volume 48. Through her passion for languages, Dal hopes to create a fun and inviting atmosphere for readers through her contributions to the paper. When she isn't working, Dal focuses on developing digital art and writing her first novel. You can connect with Dal on her Instagram or LinkedIn.