Yes, UofT's vaccine mandate is good and necessary

The safest step towards normalcy.
After careful consideration by the University of Toronto, it was announced, on August 11, that all three campuses require students, staff, and visitors to be fully vaccinated in order to enter school grounds. They are further required to provide proof of vaccination to the university's UCheck system. Despite various petitions and protests that have arisen against the recent decision, I believe that a vaccine mandate on campus is extremely beneficial and important to everyone.
Aside from the obvious benefit of being protected against Covid-19, imposing a vaccine mandate across the campuses ensures the safe return of in-person activities. Extra-curriculars, sports, clubs, cafeterias, in-person classes, and much more can resume soon if students are safe and secure. Additionally, the certainty that everyone on campus will be vaccinated creates a safe space and protects those who are medically unable to be vaccinated but need to be on site.
Mandating vaccines isn't a new strategy. Children are required to be vaccinated against many viruses and diseases, such as tetanus, polio, measles, and chicken pox. This ensures the safety of all students within schools. It is through the practice of mandating vaccines and mass immunization that diseases like measles and polio have been endemically eliminated.
This is a critical decision for the institution, faculty, students, and those in contact with these individuals, as it not only affects those who attend the campuses, but their close contacts as well. Although many protestors argue that this mandate takes away their liberties and freedom of choice, I'd argue that it rather opens up more freedoms and choices for individuals to partake in as they can safely go back to their normal lives. Vaccinated people can enjoy the luxuries of everyday life, such as attending classes or dining in, freely and safely. It opens up possibilities to meet larger groups of people, socialise more frequently, and attend all the special events we were once denied. And so, imposing a Covid-19 vaccine mandate is the most feasible plan of action and holds the greatest progressive potential for the community.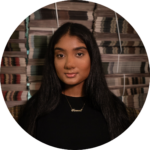 Opinion Editor (Volume 49) | opinion@themedium.ca — Kareena is a third-year student completing a double-major in Criminology and Socio-Legal Studies and Philosophy, and minoring in Forensic Science. She has previously served as the Associate Opinion Editor for Volume 48. Through her involvement and contributions with The Medium, Kareena hopes to foster a safe and trusted space, while encouraging others to let their voices and stories be heard. When Kareena is not writing or studying, you can find her watching true crime mysteries or cooking.