When I grow up, I want to be…

Recognizing how representation of women of colour through toys, namely Barbie dolls, encourages youth.
Chika Stacey Oriuwa, an alumna of the University of Toronto's Temerty Faculty of Medicine, has been honoured by Mattel, an American toy manufacturer, and had a Barbie modelled after her. Her doll is one of six unique dolls that were rolled out during the week of August 4, 2021 for Mattel's #ThankYouHeroes campaign. 
Oriuwa's doll showcases an accomplished woman of colour in a distinguished position. This important symbol created by Mattel allows youth to envision such professions as not only desirable, but attainable too. It lets them reconfigure how they view women—especially women of colour—and professions through a gendered lens.
Oriuwa explains that "children begin playing with Barbies and other dolls at a young age. Through play, we start to understand the world around us and our place in it. It shapes our self-esteem."  These internalized perceptions of the world help to define our place in society through our dreams, hopes, choices, and goals. As this doll spotlights a woman of colour, it gives underrepresented children the confidence to aim for these goals as well. "I believe that if you can see it, you can be it. […] A Barbie who looks like me sends the message to children that they have what it takes to become a doctor," states Oriuwa.
Representing women of colour and distinguished professions break down barriers of intellectual and beauty standards for children. Children emulate their toys, and when underrepresented groups are given the spotlight like this doll, it empowers young girls of colour to strive for their aspirations. The doll can also reduce stereotypes and generalizations of groups, which would create equal and unbiased views of beauty and success.
Social ideals are also adjusted along the way. Toys that showcase different cultural, gender identities, and body shapes tear down social expectations and constructs, and have the potential to alter views held all over the world. This is a huge step in the direction of allowing individuals of colour, especially women of colour in this case, to see themselves represented from a young age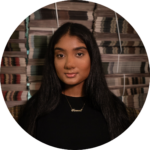 Opinion Editor (Volume 49) | opinion@themedium.ca — Kareena is a third-year student completing a double-major in Criminology and Socio-Legal Studies and Philosophy, and minoring in Forensic Science. She has previously served as the Associate Opinion Editor for Volume 48. Through her involvement and contributions with The Medium, Kareena hopes to foster a safe and trusted space, while encouraging others to let their voices and stories be heard. When Kareena is not writing or studying, you can find her watching true crime mysteries or cooking.