Walmart and Target U.S. to cover employee tuition

What corporate coverage of tuition for all workers means for education accessibility, the youth, and the future of business strategy.
As a result of the Covid-19 job market crash, companies are looking to not only retain, but attract employees and are capitalizing on one common American struggle to do so, as they often do.  
On July 27, 2021, Walmart U.S. announced that it will be covering 100 per cent of tuition at partnering universities, as well as the cost of required books for its employees. Any of the 1.5 million Walmart employees, full or part-time, are eligible. 
Not only does this motivate potential employees during a time when Americans do not want to work, but it also builds brand loyalty, which translates to long-term company growth. As employees in most companies attain degrees in various beneficial fields, such as supply chain management and cybersecurity, they can apply their new skills and knowledge to their respective workplaces. This also motivates employees to climb up the ladder within their current workplaces. 
Following suit, on August 4, 2021, Target U.S. announced that they would also be paying for their employee's tuition at any of the 40 participating schools—which is 30 more options available than with Walmart—while also paying up to US$10,000 a year for Master's programs.
Tuition reimbursement plans are a prime example of the popular capitalist mantra, "competition breeds innovation." As companies compete with one another to attract employees and build their executive boards from the ground up, millions of Americans can access levels of education that they may have never considered due to their financial situation. 
As a result of the new benefits introduced by Walmart and Target, American retailers looking to enter the market or compete must now take accessible education into account when developing their business strategy. More Americans will be able to gain higher education without financial burdens, which will benefit both youth and the corporations.
However, it is important to ask, will this always be the case? How does an organization ensure that their money is being put to good use and not being taken for granted? If you worked hard to buy your dream car, you would treat it with care and value it, but if I told you that everyone gets the same car for free, would you be as careful?
When asked whether the financial barrier of higher education serves as motivation, Paola Rubi, a third-year biology and earth science student at University of Toronto Mississauga, mentioned that "U of T has the highest tuition in the country, which is definitely something I keep in mind any time I feel unmotivated. If I'm paying this much, I better be making the most of it."
A method of regulation is pivotal in making sure that both the organization and the employee benefit. This could be as simple as appointing a system similar to scholarships, in which every employee, unless granted exclusion, must maintain a certain GPA each semester or enroll in select programs in order to get the benefits for the following term. This way, education is accessible to the employees who truly value it.
While no prominent Canadian companies have adopted Target and Walmart's method of full tuition coverage, many are implementing their own variation of tuition reimbursement plans. In 2011, the Toronto Star reported that "The Bank of Canada gives full tuition subsidies up to C$7,000 to each employee for courses related to their position and reimburses 75 per cent tuition for unrelated courses up to the same amount." 
As youth become buildable assets for businesses and they recognize the value of satisfied and educated employees, they must change their strategies to build brand value and develop inexperienced youth into competent executives within their own walls.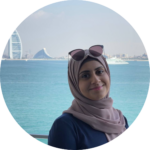 Staff Writer (Volume 48), Contributor (Volume 49) — Hamna is in her fourth year at UTM specializing in Digital Enterprise Management. Her love of reading and writing is only paralleled by her interest in random Space News and impromptu discussions about society, ethics, and technology. She writes for The Medium because she believes that one of the most beautiful elements of humanity is discourse, which she is given the opportunity to encourage through her work. In her free time she likes drinking chai, reorganizing her bookshelf, and reading complex technical books to her nieces and nephews.