Varsity athlete Jade Addai speaks on her experience with stereotypes surrounding athleticism as a BIPOC female athlete
In 2021, Jade Addai graduated University of Toronto Mississauga (UTM) with an Honours Bachelor of Arts degree in Criminology, Law and Society, and Political Science.
Addai moved to Swift Current, Saskatchewan, a relatively small town, at the age of eight from London, England. She was motivated to study at UTM because she was seeking a change of scenery and a city lifestyle.
Addai was inspired to play basketball at a very young age. In grades five and eight, she met a basketball coach that encouraged her to play the sport. She has played competitively ever since.
When Addai settled into her student life at UTM, she saw a flyer for basketball try-outs and decided to go after the opportunity. "I was curious about the whole college and sports lifestyle. I knew that this would be a once-in-a-lifetime opportunity and that excited me," states Addai.
After she started playing, Addai realized that the Recreation, Athletics & Wellness Centre (RAWC) facilitated an environment that catered toward her future goals, both academically and physically. The resources and spaces offered at the RAWC were diverse and inclusive. 
"I felt that when it came to myself achieving goals both on and off the court, I was assisted if necessary. On top of that, I had coaches who knew my potential both academically and physically which pushed me to achieve my goals during my time at UTM," she says.
She also recognizes that playing basketball while being a student had many mental health benefits. "Whenever I was on the court, I forgot about anything else that was going on in my life. School was very stressful, but it was almost as if I was in a trance for two to three hours whenever I was playing basketball."
Addai shares her experience as a female athlete of colour. She discusses how UTM's diverse student body and coaches fostered an inclusive environment that allowed her to grow as an athlete.
"As a woman of colour, I have experienced situations where I have felt as though I do not belong, but that was not the case when playing sports at UTM. The student athlete body was very diverse which helped a lot of us, regardless of the sport we played. I had four amazing coaches who played a huge role in providing me with a judgement-free environment. I was never afraid to make mistakes or ask questions," Addai says.
The chance to make mistakes in her sport was a good thing because she believes that "Our society assumes that people of colour, especially Black people, must be good at sports because they are 'gifted.'"
"When I started playing sports, people made these comments towards me. Some would even be angry with me because, fortunately, I was pretty good at many of the sports I played," shares Addai. "Many also assumed I didn't put in additional work into the sports I loved. But this was never the case. I started to train individually because it bothered me that people saw my talent and made unfair assumptions."
"It felt like they were discrediting my effort and suggesting my genes were the only reason for my athletic success," adds Addai.
After facing these stereotypes, Addai channelled her frustration into working harder on the court: "Because I started to experience this at a young age, it shaped the kind of athlete that I am today. I stopped caring about what other people thought of me. I practiced and competed to the best of my ability."
Addai advises other BIPOC athletes that may feel reluctant to participate in sports due to racialized stereotypes to understand that self-confidence comes from within and that regardless of their skin tone, they should go after opportunities.
She concludes by saying, "Although it can be difficult, it's important that you feel confident in your skin. Sports will teach you more than just athleticism. They can connect you with people."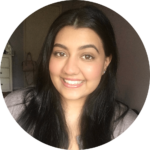 Staff Writer (Volume 48) — Anjalli graduated with a Specialization in Political Science and a minor in English. Through her contributions at The Medium, she aims to educate readers on the unique complexities of life and how we strive to overcome challenges collectively through policies and voice. In her free time she enjoys reading the latest news, meditating by her Saje diffuser, or looking at Pinterest for fashion inspiration. If you ask Anjalli what her favourite food is, she'd reply "a green dragon sushi roll!"