UTM's Indigenous Garden: a conversation with nature and tradition

A student-led initiative aims to embrace Indigenous traditions on campus.
Maria Hupfield, an Assistant Professor of Indigenous Digital Arts and Performance at the University of Toronto Mississauga (UTM), is an interdisciplinary artist and the founder of the Indigenous Creation Studio, a gathering space and a hub for creative people. One of the projects that have come out of the studio is the Indigenous Garden called the "Mashkiikii Gitigan." With the intention of fostering an Indigenous Garden Community, planting seeds in the Indigenous Garden is simply the beginning to a blooming relationship with the land. "This is phase one of our work to change the culture around our relationship to land on campus by countering the frequent delineation between green spaces versus urban spaces," shares Marim Adel, a Research Assistant at UTM's Indigenous Garden.
Adel recently completed her undergrad in Exceptionality in Human Learning and Biology. She became involved with the garden through a work-study position in her second year, working periodically with the Indigenous Creation Studio ever since. "A lot of my research is informed through disability justice and accessibility, and I have been able to grow [my knowledge through] what I learn with the Indigenous Creation Studio," explains Adel.
First halted by the pandemic, the garden is now in full bloom. "We started planting this season, so things are moving much faster," says Adel. However, expanding the garden quickly is not a priority for those working on this project. With drive to nurture the garden with true intentionality, members of the team conduct extensive research to determine what is good for the land, what is good for the students, and what plants students would seek to grow. "It is a participatory project," explains Adel, "we want students to be excited about what [is] growing on their campus."
Students working on the project developed a survey to find out which plants were deemed culturally significant to students. "We invite other forms of knowledge to the garden," explains Adel, "we try and take a multicultural approach." The garden recently grew Palestinian squash, for example, in addition to Indigenous medicinal crops.
Specific Indigenous methodologies and protocols are followed while assessing the plants and cultivation of the garden. "We follow the 6 "R's" of Indigenous research; respect, responsibility, reciprocity, refusal, relevance, and relationality," says Adel. "We reflect on the responsible ways to promote knowledge by making sure it's grounded in humility and making sure that everybody that's involved recognizes that land is our teacher."
Currently, the Indigenous Garden is growing medicinal herbs that can be of use to students, faculty, and community members. Sage, one of four sacred medicines, is used for smudging—an Indigenous tradition consisting of burning medicinal plants to cleanse one's soul. Similarly, tobacco is used for sacred offerings when harvesting plants.
"Another important aspect for the garden is giving a space for land-based connection, especially for Indigenous, BIPOC, and LGBTQ2S+ students on campus," says Adel. The garden is a way to bridge any disconnect with nature. "[It is] an experiential learning initiative," she explains, "where its purpose is to teach about land stewardship to ensure the environment's future."
The Indigenous Garden currently has two locations on campus, with the main site being behind the Communication, Culture and Technology (CCT) building. The other garden is located on the rooftop of Maanjiwe Nendamowinan (MN). "The CCT site is growing corn and other plants like calendula for the pollinators."
Student involvement is crucial for the future of the garden. Working as a collective is key to ensuring sustainable growth on campus while honouring Indigenous traditions. "The UTM campus is surrounded by nature, but we're not really in conversation with it," explains Adel. "We aren't interacting with the trees and the plants and the majority of students don't know what grows here. The garden is a place where students can begin to facilitate that conversation," concludes Adel.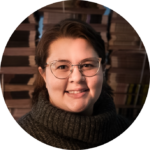 Associate Features Editor (Volume 48 & 49) — A recent graduate from UTM, Dalainey is currently working on completing her post-graduate studies in Professional Writing in Ottawa. She previously served as Staff Writer for The Medium's 47th Volume and as Associate Features Editor for Volume 48. Through her passion for languages, Dal hopes to create a fun and inviting atmosphere for readers through her contributions to the paper. When she isn't working, Dal focuses on developing digital art and writing her first novel. You can connect with Dal on her Instagram or LinkedIn.