UTM publications land bright careers for PWC students

Online Managing Editor of Mindwaves and Compass Duaa Nasir shares how she is preparing for a new publication season.
Initially considering a specialist in Biology at the start of her undergraduate journey, Duaa Nasir hadn't imagined a potential future in publication. That was until she took a writing course out of personal interest. "I was able to share my ideas in a way I never thought possible," says Nasir. With a background in both arts and sciences, Nasir has curated a diverse skill set to prepare for a future full of opportunities.
Beginning her journalistic career as a Staff Writer, Nasir aimed to gain writing experience in a fast-paced environment. Through regular submissions to the paper, she assumed the position of Associate Sports & Health Editor for The Medium. Pursuing the position of Section Editor for the Sports & Health section was a natural progression—a role which she held through Volume 48 of the publication. "It was a great experience, I got the opportunity to work with incredible people," exclaims Nasir. "I learned about the practical work involved in the writing and editing field like coming up with article pitches."
While filtering through emails from the Institute of Communication, Culture, Information and Technology, and Professional Writing & Communication (PWC) departments, Nasir learned of a Research Opportunity Program (ROP) to join the Mindwaves and Compass journals. "It was a role as Online Managing Editor, similar to the position I had as an editor at The Medium," explains Nasir.
"I knew that the [ROPs] were competitive, so I didn't expect to get a reply," says Nasir. A few weeks later, she received an email congratulating her and letting her know of the next steps to begin her position as Online Managing Editor for Mindwaves and Compass. Through this role, Nasir has worked on creating a website for the publications to be accessed virtually.
Mindwaves and Compass are annual literary magazine publications run by students in the PWC Program at the University of Toronto Mississauga (UTM). Mindwaves is a creative non-fiction publication whereas Compass is a research-based journal. The publications are strong representations of what it is to be a PWC student at UTM: ambitious authors of creative non-fiction and research coming together to showcase their talents. Mindwaves and Compass are true testaments to the strength and aptitude of students in the program.
"This year, we set up a website to publish digital copies of the journal," explains Nasir, "moving the journal online was a progressive step for the publication." Creating a virtual space was a response to the pandemic.
While navigating through previous issues of the publications, Nasir was amazed by the level of creativity in students' submissions. "I was surprised at the types of stories that creative people were able to come up with through the smallest experiences," says Nasir, "something that can only last a few seconds can be captured in a way that would never occur to me." Seeing students' thought processes through describing such events is inspiring for editors.
For aspiring authors of Mindwaves and Compass, or any other publication, Nasir recommends getting your work peer edited. Rather than turning to classmates, she suggests turning to your close friends, fellow authors, and professors. Relying on people that know you and your style of writing, and that have experience in the field, can add more value to your writing and help you turn a story that you are happy with into one you love. "Having the courage to go up to friends and professors to read your work is something that I encourage for all writers," says Nasir, "I'm always flattered when people approach me to read their work."
Being part of the Mindwaves and Compass team has further developed Nasir's appreciation for the world of publishing: "Working on the administrative and technical side of editing and publishing is the most valuable thing I learned from working with [the journals]." It can help in deciding whether writing is a hobby or a true profession for an individual. "We learn a lot in class," explains Nasir, "but as with any job there is a difference between what you learn in school and the real-world side of things."
Writing is not always an easy feat, and for those struggling, Nasir shares this advice: "[Learn] to be okay with your thoughts not coming out perfect. Try not to overthink."
To learn more about previous volumes, and keep up with publication updates, follow Mindwaves and Compass on Instagram @utm.mindwaves.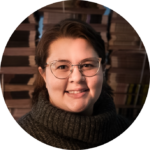 Associate Features Editor (Volume 48 & 49) — A recent graduate from UTM, Dalainey is currently working on completing her post-graduate studies in Professional Writing in Ottawa. She previously served as Staff Writer for The Medium's 47th Volume and as Associate Features Editor for Volume 48. Through her passion for languages, Dal hopes to create a fun and inviting atmosphere for readers through her contributions to the paper. When she isn't working, Dal focuses on developing digital art and writing her first novel. You can connect with Dal on her Instagram or LinkedIn.