U.S. and Canada send warships to Taiwan Strait

The international community's response to China's recent escalation to reunify heightens tensions in the region.
From October 1 to October 4, "a mix of nearly 150 People's Liberation Army Air Force (PLAAF) fighter jets, nuclear-capable bombers, anti-submarine aircraft and airborne early warning and control planes have entered Taiwan's Air Defense Identification Zone (ADIZ)." Taiwan denounced this dramatic move by deploying jets and missiles of their own.
This was the highest number of warplanes China has ever sent into the area, raising international concern for a conflict, but local Taiwanese people remain unfazed. Although Taiwan's defense minister stated in a speech that he expects China to be capable enough to invade Taiwan by 2025, analysists disagree and believe the chances to be "close to zero" even within the next year. The potential for incursions by China is not news to the Taiwanese and is practically a regular occurrence since the early 2000s.
So, if the Taiwanese aren't worried, why is the international community so tense about this recent escalation? The simple answer: maintaining power. China's goal is to hopefully reunify with Taiwan and become 'One China.' But, Taiwan has grown more confident over the years and has built diplomatic relations with 15 countries, despite Chinese pressure. Countries across the world, like Australia, Lithuania, and the United States, support and defend Taiwan's independence. Their flourishing relationship with the U.S. in particular is highly beneficial for them on the international stage to garner support and acceptance as an individual state. The U.S.'s goal is to keep China in check and continue their legacy of foreign intervention (which has always worked out so well historically).
In a first ever "breakthrough" joint effort, the U.S. Navy's USS Dewey, an Arleigh Burke-class guided missile destroyer, and a Canadian frigate, HMCS Winnipeg, sailed through the Taiwan Strait on October 14 and 15. The U.S. Military said that this move "demonstrates the commitment of the United States and our allies and partners to a free and open Indo-Pacific." China has responded by condemning this move and stating that it "is not a commitment to freedom and openness, but a deliberate interference with and destruction of regional peace and stability."
Experts have claimed that this joint effort is a "breakthrough" because it highlights a new way for the U.S. to deal with China, which is getting allies to work together militarily towards a shared threat. The U.S. routinely inspects the Taiwan Strait with their warships and so do their allies, apparently, as Britain also sent a warship in September.
"The joint transit would 'definitely' have a negative impact on China-Canada relations, though Beijing is not likely to take any concrete action against Ottawa," says Ding Yifan, former deputy director of the Institute of World Development. Let's not forget that Canada-China relations are still unstable amid the Huawei saga. The most recent development was the release of Huawei's Meng last month in Canada, and Beijing released two Canadians dubbed in response, Michael Spavor and Michael Kovrig.
China, the U.S., and Canada are using Taiwan for their own domestic gain. Canada's Prime Minister Justin Trudeau and his Liberal party have always taken a rather 'moderate' approach to handling China, in comparison to the Conservatives' more direct and rough approach. With the recent snap election that no one wanted, Trudeau wants to keep his support up, and the best way to do this is to be tough on China—or just do whatever U.S. President Joe Biden tells him to do. Biden's approach to tackling China isn't that different than what the U.S. has done for decades, the difference now is that he is successfully sweet talking his allies into working with him. And China wants to gain domestic support for the Chinese Communist Party (CCP).
Right now, war may not be likely. But, if forced foreign intervention continues amid this tension, conflict will rise, and the people that will suffer most from it are the Taiwanese. The U.S. and its allies will continue to irritate China, and China will continue to respond strongly. We have seen throughout history, time and time again, whenever there is unwanted foreign intervention, especially from the U.S., bloodshed is inevitable. There is no doubt that we need to support Taiwan's democratic government and their independence, but we should also learn from the past and innovate new diplomatic solutions rather than repeating the cycle of war. What happens if in the quest for 'freeing' Taiwan, it is Taiwan that ends up caged, and not the power hungry countries that forced it in there?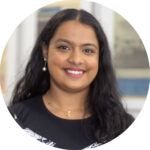 Opinion Editor (Volume 48) | opinion@themedium.ca —
Aroni is a fourth-year student completing a double major in Political Science and English. She previously served as the Associate Comment Editor for Volume 47. Aroni is keen on enabling a safe and trusted space within the student body for students to critically think about issues that matter to them—both on a personal to global scale. Outside of studying, writing, and editing, she loves to dance to classic Bollywood tunes, cycle while listening to music or a podcast, write in her blog, and watch endless K-dramas on Netflix and Viu. You can connect with her on Instagram, LinkedIn, or her blog.