Theatre Erindale's Alcestis: Merging styles of the past and present

How Theatre Erindale's latest main stage production used costumes, lighting, and sound effects to create a timeless experience.
Theatre Erindale's latest production reimagines a play that has been in production since 438 BC. Alcestis by Euripides tells the story of King Admetus (Anthony Palermo) as he mourns his wife Alcestis (Jewell Bowry)—who sacrifices her life for her husband to live past his allotted time on Earth. As a result, Alcestis is deemed the "best of women beneath the sun." Throughout Theatre Erindale's production, lighting and sound was utilized beautifully, expressing the characters' desire to spend more time in the sun. In the background, I often heard a delicate balance of crickets and birds chirping—an aspect that brought out the play's realism. Under the direction of Alan Dilworth, Theatre Erindale's Alcestis mixed modern, classical, and hard rock aesthetics to create an interesting take on Greek drama.
When the lights went up, the audience found three elderly people (Ava Patterson, Juliet Spizzirri, Mirphie Kinanga) in tracksuits. They performed tai chi in front of Admetus's palace—as a traditional Greek Chorus, which is a small group of performers that comment on the happenings of the play. Apollo (Stevie Hook) entered with his magical bow and lyre—an electric guitar—to sing the tale of Admetus and Alcestis. Later, Death (Chelsea Mathieu) appeared to ensure that Alcestis's demise fulfilled Admetus's debt to Death. It was quickly made clear that Death and Apollo did not get along.
As the play progressed, the focus shifted to the Greek Chorus. Alcestis's Servant (Maïa Greco) entered and explained to the Greek Chorus that her mistress, Alcestis, appeared both living and dead in her state of suffering. She invited the chorus to say their goodbyes to their friend. But before Death gave Alcestis a lethal injection, Bowry gave her first monologue as Alcestis. In this powerful speech, she made Admetus promise not to find another wife—because stepmothers always hate their stepchildren. With her husband's promise, Alcestis died.
While grieving, Admetus was visited by his friend Heracles (Sydney Scott), who was unaware of the loss that took place. After some insensitive lies from Admetus regarding wife's death, Heracles partied to "Push Me" by Benny Benassi. As more tragedy unfolded, the play left audiences reflecting on themes of morality and female sacrifice.
While Alcestis is a classical play, costuming for the production mixed a few different styles to portray each character. The Greek Chorus and Servants were dressed in modern clothing—track suits and neutral tones—while others, like Heracles, Apollo, and Death, wore costumes and hairstyles inspired by the 1980s and 1990s hard rock/punk era. Modern props such as oxygen tanks, gurneys, and IV drips were utilized, and Heracles's preferred method of transportation was a child's "Razor" scooter.
While the overall performance was spectacular, Bowry's final monologue as Alcestis should be recognized. Within her words, she realized that her voice never mattered. As a female character who devoted her life to her husband, this monologue left me thinking about the importance of female independence.
Through the merging of different styles, the show created some confusing aesthetics at times. However, the skillful acting of each performer allowed for an enjoyable yet tragic experience for the audience. Be sure not to miss Theatre Erindale's final show of the 2022-2023 season, Everybody, on stage from March 23 to April 1, 2023.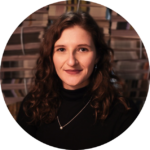 Associate Arts & Entertainment Editor (Volume 49) — Megan is majoring in English with minors in Creative Writing and History. Her love of the arts and experience in theatre and music are the backbone of Megan's work with The Medium. Aside from her academics and journalistic endeavors, Megan can be found writing original music for streaming platforms, playing her pink Fender Jazz Bass, writing spooky detective stories, longing for the mountains of B.C., and watching Disney+. Her preferred instruments of writing are her notes app and her 1970s Erika typewriter. You can connect with Megan on Instagram, Twitter, and LinkedIn.