Theatre Erindale's 2022-2023 season hits the stage

An in-depth look at the exciting new season of production at Theatre Erindale.
Theatre Erindale, an integral community at the University of Toronto Mississauga (UTM), is preparing for a new season of production by the theatre and drama studies program. Students, spectators, and performers are excited to see campus reignite with creativity.
The last few seasons of Theatre Erindale have unfortunately been disrupted by the pandemic. Some productions never made it to the stage despite the hard work that student casts and crews put into them. However, this year, students are anxious to host their first full and in-person production season since 2020.
Through the theatre and drama studies specialist program, students in first and second-year focus on the backstage and technical components of two productions per year. Third-year students are involved more integrally through performances in a classical show and one written by the cast. Finally, fourth-year students work with off-campus professionals to learn about directing, staging, and acting—each student gets the chance to play one featured role for an entire season of plays. Fourth-year students are the foundation of Theatre Erindale, using the theatre as a platform to complete their degrees.
This year, an exciting production season is expected. Four shows have been announced for the main stage. Sarah DeLappe's The Wolves—a piece about a group of high school girls on a soccer team—begins the season. A finalist for the 2017 Pulitzer Prize for Drama, The Wolves' themes of teen angst and conflict mirror the energy that arrives on campus every fall with new first-year students. The Wolves will be on stage from October 27 to November 5, 2022.
Next on the schedule is Le Tartuffe by Molière, on stage from November 24 to December 3, 2022. First produced in 1664 in French, Le Tartuffe presents a comedic story of a sneaky rascal who alters his identity and enters the household of a wealthy man. Translated in English as "The Imposter," Le Tartuffe is a tale of hypocrisy and morality that highlights the themes of a neoclassical comedy.
Representing true classics, Alcestis by Euripides will be gracing the stage from February 16 to March 4, 2022, showcasing a tragedy from Ancient Greece. While on his death bed, King Admetus is told that he can live if he finds someone to sacrifice in his place. Queen Alcestis dies to save him, leaving spectators to revel in the true tragedy of the sacrifice of love.
Closing off the main stage production season is Branden Jacobs-Jenkins' Everybody, staging from March 23 to April 1, 2022. Based on the 1510 play The Somonyng of Everyman by Petrus Dorlandus, Everybody highlights the concept that "any story about death is likely focused on life."
The upcoming main stage schedule holds a variety of themes and genres that will captivate UTM students and faculty. More information on student directors and actors are yet to come, but one thing is for sure: the Theatre Erindale stage will be packed with talent.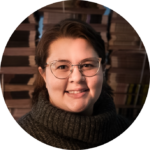 Associate Features Editor (Volume 48 & 49) — A recent graduate from UTM, Dalainey is currently working on completing her post-graduate studies in Professional Writing in Ottawa. She previously served as Staff Writer for The Medium's 47th Volume and as Associate Features Editor for Volume 48. Through her passion for languages, Dal hopes to create a fun and inviting atmosphere for readers through her contributions to the paper. When she isn't working, Dal focuses on developing digital art and writing her first novel. You can connect with Dal on her Instagram or LinkedIn.