The mistreatment of celebrities behind the scenes

Revealing the price of fame as musician David Krzecko discusses distress within the industry.
The New York Times' recent documentary on Britney Spears' conservatorship sparked conversations across the world about a celebrity's well-being and responsibilities in the industry. Looking deeper into celebrity life, certain trends show how issues of over-exhaustion and lack of freedom are often associated with some celebrities that are labeled "crazy," when really, the fault lies within the demands of Hollywood. Over the years, numerous celebrities have suffered due to the dangers of being in the limelight.
We put celebrities on a pedestal, but we often forget they are humans too. It is stressful to have every aspect of your life out in public, and anxiety follows when agencies own your brand and image. Spears is a current example of how these different factors can impact a celebrity's health.
In 2009, sources revealed through FreeBritney.net that Spears, her children, and her money were controlled by her father, Jamie Spears, under court-ordered conservatorship. This led her fans to wonder about her well-being, as well as her mental state, as Britney's recent videos on TikTok often looked forced. In recent years, other celebrities also advocated to push for Britney's release from her father's control. Media coverage of the scandal forced Jamie to file for the end of the 13-year conservatorship last week.
The road to success, whether in the world of music or acting, isn't easy. "I wish there was a cookie-cutter formula, but [even] creating music is a really sporadic process," says David Krzecko, a rapper under the name Szef. As a third-year criminology student at the University of Toronto Mississauga (UTM), Krzecko immerses himself in the world of hip-hop through his creative writing process and has learned about some of the concerns of fame. He reminds us of the strenuous work that comes with creating a name for yourself. Even when you manage to make it, the struggles do not end.
"These artists are brought in by producers, exploited for their talent, and left with nothing in the end if they aren't careful," explains Krzecko. The movie industry is no stranger to this problem. Child actors are especially susceptible to falling from fame as the industry often takes advantage of them. One famous example would be Lindsay Lohan, whose childhood fame did not lead to a successful career later in life, as Hollywood failed to support her and her endeavours.
With his journey in the music industry in mind, Krzecko hopes to leave us with one word of advice: "Whether you are going [into a field that's] artistic or not, keep your intentions pure and whatever you're working towards will come to fruition."
Krzecko's newest project was released in July 2021—a complete album titled Nothing Gold Can Stay. You can purchase physical copies of the album through his Instagram @szefmusic. "I lost my mom to breast cancer about two years ago and all the sales will be donated to an avenue to help families that have been affected by cancer," says Krzecko, who currently conducts local drop-offs for the album. You can also find Szef's music on any streaming service.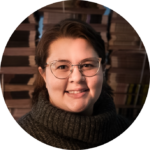 Associate Features Editor (Volume 48 & 49) — A recent graduate from UTM, Dalainey is currently working on completing her post-graduate studies in Professional Writing in Ottawa. She previously served as Staff Writer for The Medium's 47th Volume and as Associate Features Editor for Volume 48. Through her passion for languages, Dal hopes to create a fun and inviting atmosphere for readers through her contributions to the paper. When she isn't working, Dal focuses on developing digital art and writing her first novel. You can connect with Dal on her Instagram or LinkedIn.