The Korean Wave crashes into the Western world

The prevalence of Korean entertainment charms a global audience and challenges the spotlight of American TV.
After the exhaustion of hardened tropes and archetypes that remained at the forefront of Western entertainment for years, something stark and fresh has risen out of this vast age of entertainment monotony—something unequivocally different with creative executions that are enthralling North American audiences.
As noted in a thesis by Courtney McLaren, "Hanliu" (which became Hallyu) is a Chinese term that translates to "Korean Wave." Hallyu represents the cultural spike of Korean content that has fascinated the Western world since the 1990s when the government lifted its travel ban—allowing international influences in—revoked its censorship laws, and reconstructed its economy.
Now a "depoliticized" bridge between two disparate cultures, Hallyu was first driven by the spread of K-dramas and K-pop across East, South, and Southeast Asia during its initial launch. The Korean Wave then transgressed from a regional development into a global phenomenon. Proving to be a promising major exporter of popular culture, Korea's entertainment pushed through with the South Korean government's support of its creative industries through subsidies and funding for start-ups. This would be spearheaded as a form of "soft power," with the goal to become a leading global exporter of culture in line with Japanese and British culture—a niche that the U.S. has dominated for nearly a century.
Soft power, a term coined by Harvard political scientist Joseph Nye, is described as "the intangible power a country wields through its image, rather than through hard force." Using their popular culture as currency over the past 20 years, Korea began with a gross domestic product per capita less than Ghana and is now rising to be the twelfth largest economy in the world.
DramaFever, a former video streaming site and leader in international media, has published statistics that showcase a quadruple boom in viewers from 2012 to 2013, growing from 2.5 million to 10 million. Currently, viewership has peaked at 20 million. With 85 per cent of DramaFever's audience shown to be non-Asian, these staggering numbers reveal the power of K-dramas in recent years, bringing flavour to the deprived palette of Westerners.
According to a Korean Creative Content Agency study, about 18 million Americans watch K-dramas. Viki, another top Asian TV show provider, has documented over 40 million users from 195 countries, with the U.S. as its top audience. With its influential recognition and international reputation, Korean society began to be recognized as developed on par with the Western world, primarily due to the stories they tell, the music they praise, and ultimately, the messages that can be learned.
A study conducted by the International Journal of Environmental Research and Public Health views K-dramas as promising modes of bullying awareness, especially among Asian-American college-aged students who identify more readily with the characters. Limitations in research on bullying, mental health, and help-seeking for this frequently stigmatized group have been deemed concerning in past years due to the nature of its public health importance. Korean drama TV has been an innovative, recent approach to improve knowledge, attitude, and behaviour on bullying.
From an experimental group of 118 college students, which is disproportionately female and Asian American, many of the students reported dealing with anxiety (67.8 per cent), depression (38.1 per cent), and school bullying victim experience (40.8 per cent). After watching a K-drama that portrayed school bullying and mental health issues, participants who had reported that they "love" the drama felt an emotional connection and thought that K-dramas could be an education tool for discriminated Asian-Americans. Due to the massive reach of K-dramas, research is ongoing to prove the longevity of K-dramas as an effective population-level tool for improving health outcomes among Asian Americans.
Edgar Allan Poe once described that the benefit of the short story over the novel is that condensed media has "the totality of effect." This can be said because you can read the whole story in one sitting, fully immersing yourself into the plot and the imagery, whereas the primary failure of a novel is its inability to grasp the attention of the audience without once putting it down.
The fascination and admiration for this rejuvenated media stems from the fabric of the story which enables characters to be more complex. Usually condensed into one season, these limited K-drama series allow audiences to remain interested in one good story arc, in comparison to series that span multiple seasons and touch on different storylines.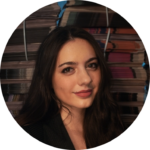 Staff Writer (Volume 48 & 49) —
Paige is in her third year at UTM, currently completing a double major in Biology for Health Sciences and Psychology. She previously worked as an Associate Editor for A&E in Volume 47 of The Medium, and as a Staff Writer in Volume 48. When she is not writing review articles for A&E, you can find her watching rom-coms, writing inappropriate Letterboxd reviews, playing basketball, cruising on her motorbike, and fangirling over the icon that is Taylor Alison Swift. You can connect with Paige through
Instagram
 and 
Letterboxd
.