The effectiveness of social media activism

Social media platforms help raise awareness on important issues worldwide.
The internet has given us unlimited access to information that we would otherwise not learn about through traditional news platforms. Daily, we learn about devastating environmental issues and mass human rights violations through the social media accounts of individuals actively facing calamity. As a result, many have taken advantage of the accessibility of social media, using it to promote and advocate for charities and movements they are passionate about. This had led to a dependency on an emerging form of social justice: social media activism.
The recent discovery of mass grave sites on former residential school grounds sparked social media activists across the country. Hashtags like #everychildmatters and accounts advocating for Indigenous rights were trending and could be found on a lot of Instagram stories. The strong social media presence created by passionate activists around the world led to the incorporation of a new Canadian federal statutory holiday on September 30, the National Day for Truth and Reconciliation—a day of reflection to honour Indigenous children lost during the residential school era.
The question now becomes: is sharing informative posts and using hashtags on our social media pages as effective as fundraising, protesting, or lobbying?
"Social media activism has really given us unprecedented access to democratize information because the majority of young people get their news from social media," says Jillian Sunderland, a sociology PhD student in the SSHRC Joseph-Armand Bombardier Canada Graduate Studies Program at the University of Toronto. Reflecting on her use of social media, Sunderland confirms that she also utilizes her platform to share important information with her followers. Access to the internet allows an opportunity for everyone to become allies in important causes and movements.
Social media activism helps communities understand their own histories and brings attention to important conversations around the world. Following the murder of George Floyd and the intense social media coverage of the Black Lives Matters (BLM) movement during the summer of 2020, Americans used their social media platforms to expose the deep-rooted racism of the country that is not an issue of the past. The movement also allowed Canadians to reflect on histories of slavery and racism.
"I realized that Canadians didn't know the extent of anti-black racism and our history of prejudicial treatment in Canada," adds Sunderland. "When I asked my friends why they weren't sharing resources on their platforms, they told me that it was just an American problem."
After Floyd's murder, Sunderland put together lists of helpful resources and informative books to share with her social media followers. She suggested the book Policing Black Lives: State Violence in Canada from Slavery to the Present by Robyn Maynard on her Instagram for those who want to learn more about Canada's history with anti-blackness and slavery.
Social media activism also gives a platform for individuals who wouldn't typically have a voice to address important social conversations. "Social media has given us the unique ability for people to speak truth to power, particularly for marginalized communities to put their narratives out there," states Sunderland. Rather than hearing from monitored corporations about social crises, social media activism allows the world to hear directly from communities facing adversity. It is our collective responsibility to give minorities the platform to speak, so that real issues can be addressed.
While social media activism brings many benefits, it does not come without downfalls. "With sharing and re-sharing, sometimes we can get in the habit of reactionary activism, where people are just responding to the next crisis," notes Sunderland, explaining that social media activism may lead people to express an opinion before being informed on the topic. Sunderland additionally warns that reactionary activism may lead to compassion fatigue, where individuals become desensitized to others' pain because they are passively sharing every crisis they see on social media. "We need to move beyond finding out about injustices only when they become popular on social media," continues Sunderland.
Sharing information regarding mutual aid networks, organizations where community members work together to address the needs of the community, is a great way to become actively involved in advocating for social crises. "They are fostered on the basis of solidarity, rather than charity, and have been incredibly beneficial in crisis relief projects," adds Sunderland, sharing that The People's Pantry, Toronto Mutual Aid Network, and the Toronto Prisoner's Rights Project are her favourite mutual aid networks. "It takes time to pass policies, and [the process happens] so much quicker when community members come together to directly address problems," explains Sunderland.
Social media activists, like you and I, hold a responsibility to search credible sources before sharing on our platforms. "We have to be conscious that while social media activism is a great thing, there is a corporate capitalist interest that shapes what gets promoted," says Sunderland, while referencing the 2020 TikTok scandal, where internal documents were released stating that the company would prioritize conventionally attractive influencers over "obese or too thin people" and filming in an environment that is "shabby and dilapidated." Mass corporations who own these social media platforms can choose who and what to promote.
Reputable social justice accounts are a good place to look for credible activist sources: "They don't usually follow people who are part of these big conglomerates, but they usually follow smaller local activists that actively help their mission," explains Sunderland. Examples include the BLM Canada Instagram page.
Searching for local groups and joining their community outreach may be helpful, such as your closest BLM chapter. Students can also reach out to social activist groups on campus for resources on important topics like the Opioid Awareness Club or UNICEF UTM.
As we live and grow in a community so reliant on social media, it is important for individuals to learn about its benefits and use it to their advantage—all while keeping in mind the platforms' possible downfalls. Participating in social media activism is simple at first glance, however it's important not passively re-share posts before forming an informed opinion on the matter. We must be mindful of what we post to ensure that we are giving voice to the right activists.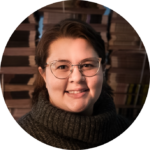 Associate Features Editor (Volume 48 & 49) — A recent graduate from UTM, Dalainey is currently working on completing her post-graduate studies in Professional Writing in Ottawa. She previously served as Staff Writer for The Medium's 47th Volume and as Associate Features Editor for Volume 48. Through her passion for languages, Dal hopes to create a fun and inviting atmosphere for readers through her contributions to the paper. When she isn't working, Dal focuses on developing digital art and writing her first novel. You can connect with Dal on her Instagram or LinkedIn.