The Downie and Wenjack Fund: How the story of a little boy who fled a residential school sparked a movement

The fund is inspired by Chanie Wenjack's story and Gord Downie's legacy to build a better Canada.
In the cold October weather of 1966, 12-year-old Chanie Wenjack was found deceased along the Canadian National Rail tracks in Farlane, Ontario. After having escaped from the former Cecilia Jeffrey Indian Residential School, which he attended for three years, Wenjack attempted to walk 600 kilometres from Kenora to Ogiki Post to reunite with his family.
Unfortunately, Chanie is one of the 150,000 Indigenous children that were forced into residential schools over the span of 150 years in Canada. A form of re-education system in Canada, residential schools were government-funded and church-run institutions. Residential schools are one of Canada's many means of cultural genocide targeting Indigenous Peoples. It is part of the country's dark history—one that we haven't been willing to shine a light on for a long time.
Mike Downie is one of the co-founders of the Downie and Wenjack Fund, which aims to bridge the gap between Indigenous and non-Indigenous people, alongside his late brother Gord Downie. In 2012, Mike was driving while listening to the radio when a short radio documentary by CBC reporter Jody Porter came on. The documentary told the story of a little boy running away from his residential school. "At the time, I had never heard of residential schools," he recalls. "That was the start of my extensive research on the topic."
Having previously worked as an economist in Toronto, Mike changed his career path after being inspired by his brother's early success as lead vocalist for The Tragically Hip, a rock band based out of Kingston, Ontario. "It made my office downtown seem a little small," says Mike while reflecting on the band's tours during their early years. Now, he is an award-winning documentary filmmaker, having co-founded a production company under the name of Edgarland Films.
A few days after being introduced to Chanie's story, Mike presented his brother Gord with a printed copy of "The Lonely Death of Chanie Wenjack," a 1967 article published in Maclean's magazine. "We always thought about doing a film together. I showed him this article, and over that lunch, we decided we would reach out to the Wenjack family," shares Mike.
Over the next few months, Gord wrote poems that told the story of Chanie's journey. Soon after, the Downie brothers recorded and released their studio album titled Secret Path. "From there we went to [graphic novelist] Jeff Lemire, who came up with ten chapters to accompany Gord's ten songs. That evolved into the graphic novel and animated film," adds Mike. It took a long time to conceptualize the project: the original idea was pitched in 2012, and the project was released in 2016.
"The original announcement of Secret Path was pretty big, and people were really curious about what Gord was going to do next," says Mike. In 2015, Gord was diagnosed with an invasive brain tumour. He later announced a farewell tour for The Tragically Hip and the Secret Path project. "We wanted to create something during this time of intense attention that will last longer and keep the conversation going. That's where the idea of the Downie and Wenjack Fund came in," states Mike.
The Downie and Wenjack Fund bridges the gap between Indigenous and non-Indigenous people through different programs. "Primarily through our legacy schools and legacy spaces," explains Mike. With approximately 4,000 legacy schools, the Downie and Wenjack Fund helps bring "reconciliACTION": a form of meaningful actions such as development and fundraising to support awareness and appreciation of Indigenous cultures and traditions. These are brought into classrooms by providing resources and support to those in need. "There's a fear of doing the wrong thing or saying the wrong thing, so we want to help guide these conversations in classrooms," he says. 
The fund also offers an Artist Ambassador Program, where Canadian musicians, artists, and performers go into legacy schools to perform for the students. The Legacy Spaces program provides a safe and welcoming place of awareness on Indigenous history and the journey of reconciliation.
Every year, the Downie and Wenjack Fund hosts the Secret Path Week from October 17 to the October 22. The Secret Path Week is an event that commemorates the days that Gord Downie and Chanie Wenjack passed onto the spirit world. Along with school visits and film screenings by the Downie and Wenjack team, the event is also an opportunity for legacy schools and others in the community to participate in the Walk for Wenjack.
Often, legacy schools add up the mileage that students walk around the school field or the block to sum to 600 km—the distance that Chanie Wenjack tried to walk to get home. "The walk gives people a time to meditate on what it would have been like for a 12-year-old boy walking in the cold of northern Ontario and put [themselves] in the shoes of an Indigenous child," adds Mike.
In 2016, Mike and a few others started the Walk for Wenjack at the former site of the Cecilia Jeffery Indian Residential School. They recreated the path that Chanie took in 1966 that led to the train tracks. Although the walk did not continue onto the tracks like Chanie's walk did, it was an opportunity to experience some of his journey. "We went with the Wenjack sisters," concludes Downie. "It was a really emotional time."

Chanie Wenjack's story reminds all Canadians that reconciliation must begin with sharing the truth. The Secret Path animation and album are available on all streaming services. To learn more about how to participate in "reconciliACTION" in your community, or learn more about the Downie and Wenjack Fund, please visit their website at www.downiewenjack.ca.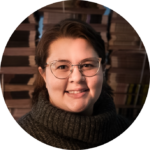 Associate Features Editor (Volume 48 & 49) — A recent graduate from UTM, Dalainey is currently working on completing her post-graduate studies in Professional Writing in Ottawa. She previously served as Staff Writer for The Medium's 47th Volume and as Associate Features Editor for Volume 48. Through her passion for languages, Dal hopes to create a fun and inviting atmosphere for readers through her contributions to the paper. When she isn't working, Dal focuses on developing digital art and writing her first novel. You can connect with Dal on her Instagram or LinkedIn.