The birth of a hero in Eyes of the Eternal with author G.E. White

With the release of her debut novel, this author shares her past at UTM and discusses the book's creation with The Medium.
Like many aspiring authors, G.E. White began writing fiction in middle school. Tweens often gravitate to fanfiction—a genre based on taking characters from movies, TV shows, and books to tell stories of romances and duels that never had the chance to happen. "[It is] an easy way to transition from someone else's ideas to your own," says White while reflecting on some of her first works of fiction. Since those middle school years, White has gone on to write and publish her own original work of fiction, Eyes of the Eternal.
White is an alumna from the University of Toronto Mississauga (UTM) and graduated in 2007 after completing a degree with a major in Professional Writing and Communication (PWC) and a double minor in English and Religion. An influential figure from White's undergraduate years, Guy Allen, is a continually prominent researcher and professor within the PWC program. "Having smaller courses with 15 or 20 people was a lot more freeing than bigger classes, and I [feel] like my writing is reflective of the one-on-one opportunities I had in classes like those I took with Guy Allen," says White.
Professors in the PWC program prepare their students for life as an author, if that is what they decide to pursue. "The truth of the matter is, most authors work a second job," says White. "Professors would let us know that to have that steady life and be a writer, you would need to look at television writing."
After UTM, White took her professor's advice and pursued a graduate certificate in Television Writing and Producing at Humber. During the process, White wrote screenplays that she will revisit in the future.
Currently, White writes audio descriptions. "My job is making stories and movies accessible for people who are visually impaired," explains White. "It's almost like making them into audiobooks." Due to the volume of content coming out, and the push for a fully accessible world, the field of audio description is growing fast; it is a new form of writing where writers have to learn what aspects of movie or TV visuals should be described to help accurately portray a scene.
In the time of the Harry Potter craze, White came up with the first idea for Eyes of the Eternal. Everyone wanted to write the next best sci-fi, and White wanted to do that by incorporating Greek mythology. "This was before Percy Jackson," says White, reflecting on the challenges she faced after discovering the series. "Once I became aware of Percy Jackson, I thought my life was over and the idea for Eyes of the Eternal was no longer good."
After years of reworking and putting down what is now Eyes of the Eternal, White self-published the novel in 2016. Later, she was introduced to the Doll House Publishing team, where she took down the self-published version to be reworked for the publishing house. Over the course of writing, like many authors, White experienced a sense of imposter syndrome. "Reading about other authors' experiences writing novels is something that helped me through that, which I suggest for new writers as well," says White. On September 22, 2021, Eyes of the Eternal was released as book one in the Realms of Rebirth series.
Following the life of 17-year-old Quinn, the novel is about the reincarnation of Greek gods in modern-day life. "There's a lot of myself depicted in the novel," says White, as a member of the LGBTQ2s+ community herself. "The [main] character Quinn is a gay man, and I can't speak to that experience, but I did my best to include parts of myself through him."
Although Eyes of the Eternal was originally written for middle grade readers, the book slowly evolved to the New Adult genre. Depicting themes of identity and responsibility, it has added to the much-needed representation of queer youth in literature. These themes will be further developed in the second novel of the series, which will mostly take place in the underworld—the afterlife of Greek mythology. Until then, readers can enjoy the beginning of Quinn's journey in White's stunning debut novel.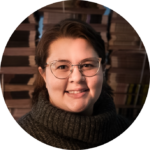 Associate Features Editor (Volume 48 & 49) — A recent graduate from UTM, Dalainey is currently working on completing her post-graduate studies in Professional Writing in Ottawa. She previously served as Staff Writer for The Medium's 47th Volume and as Associate Features Editor for Volume 48. Through her passion for languages, Dal hopes to create a fun and inviting atmosphere for readers through her contributions to the paper. When she isn't working, Dal focuses on developing digital art and writing her first novel. You can connect with Dal on her Instagram or LinkedIn.