The AGO's Indigenous Collection: A celebration of art and culture

The Art Gallery of Ontario continues its effort to platform modern and traditional Indigenous artwork.
The Art Gallery of Ontario (AGO), located in downtown Toronto, typically attracts almost a million visitors a year. The gallery's vast collection features a range of works from Indigenous, Canadian, and European artists.
Currently, the Indigenous Collection at the AGO houses several historic and modern works of Indigenous art, particularly from First Nations, Inuit, and Métis artists. On a global scale, the collection features pieces from Africa, Australia, and the Torres Strait Islands.
One of the collection's most significant pieces is the Anishinaabe Gunstock Club. The club was created in 1860 and was utilized by Indigenous Peoples from the Great Lakes and Woodlands regions for ceremonial purposes. Its engraved illustrations of three thunderbirds are intended to symbolize the natural world and its spiritual magnitude. Obtained in 2002, the Anishinaabe Gunstock Club is the AGO's first significant acquisition of historical Indigenous artwork.
Another important piece is from Indigenous artist Charles Edenshaw. Referred to by his traditional name, Tahayghen, he gained traction in the late 1800s for his creation of the "argillite totem poles." The poles contain references to tribal lineage, family crests, and Indigenous history. They are symbolic of the Haida Peoples and their artistic fortitude. These totem poles continue to influence modern-day Indigenous art.
In its more modern collection, the AGO features works such as the 2006 sculpture, "Arctic Angst." The piece was built by Bill Nasogaluak, a self-taught Tuktoyaktuk-based Inuk sculptor and painter. The sculpture depicts a bear encountering its declining habitat. Polar bears are commonly seen in Inuit artwork as symbols of novelty or joy. Interestingly, Nasogaluak's work represents anxiety.
Another modern piece in the exhibit is "Composition (Cube)," a three-dimensional piece by Cape Corset's Indigenous artist Shuvinai Ashoona. The drawing uses semi-vibrant colours and pencil marks to depict life in a seemingly rural Indigenous atmosphere.
Commencing in the fall of 2021, the AGO has been offering a free virtual school program led by a team of Indigenous art educators. The program aims to teach youth about the facets of Indigenous art and culture.
In an interview with AGO Insider, artist and educator Mahlikah Awe:ri stressed that artwork plays an important role in bridging privileged and non-privileged groups.
She stated, "[…] while Indigenous art is rooted in rich cultural traditions, it's also contemporary and reflects ongoing conversations between Indigenous people and non-Indigenous people about the way forward."
Through the Indigenous Collection, the AGO aims to educate visitors on the importance of Indigenous artistic creation. Each piece holds critical significance to Indigenous Peoples, their land, and preserves their culture.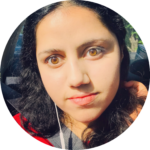 Staff Writer (Volune 48) — Shreya is in her first year at UTM, seeking a double major in business management and English. She hopes to bring attention to worldwide issues and inspire others to change their mindsets through her contributions to The Medium. When she is not writing articles, you can find her sipping coffee and reading, watching classic films, listening to music, or engaging in photography.