South Africa to Canada, an international student athlete's first year experience
First-year University of Toronto Mississauga (UTM) student Ruvimbo Vambe was raised in Johannesburg, South Africa. She grew up with two siblings and attended a private boarding school. Looking back on her experience, Vambe says that growing up, she would often be compared to her older siblings but that as time went on, she was able to forge her own path. From there on, she cherished her experience in boarding school and reflects on her time saying, "I miss the school a lot, and I miss my friends."
After her high school experience ended, Vambe attended the University of Capetown before enrolling herself at UTM. While education in South Africa was quite different from learning in Canada, one thing she finds particularly different is the help she receives at UTM: "They're kind of guiding you, the professors […] It's really great, the support system here." Vambe mentions how helpful her friends and facilitated study groups have been in her education.
This support structure caters towards students like Vambe who are more social and learn things hands-on instead of just through lectures. Just to drive this point home, Vambe says that the tutorials she attends are "amazing" and "so helpful".
An issue that was amplified during the pandemic was the ability for first-year students to establish a network and create group of friends.
However, Vambe's experience outside of academics has been positive at UTM. "I've been very fortunate to find a decent group of people and a group of people where our interests align." She mentions that her friends are relatable since they also live the international experience.
Vambe is involved with athletics as well. She has been playing tennis since the age of six through private lessons. She played for her private boarding school and continued to be coached throughout high school. Nowadays, she is involved with the UTM Tennis Club and plays tennis every Thursday at the Recreation, Athletic & Wellness Centre. Vambe describes her motivations behind joining the club: "[It's] a great way to meet new people while doing something that I enjoy."
While her experience at UTM has been positive, her future at the university remains a mystery. When coming to Canada, moving to Ontario was not originally part of her plan. Originally, Vambe's mother insisted that she go to school in Vancouver so that she could be close to her brother who lives in British Columbia.
When asked if her experience so far has convinced her to stay, she says, "I think it's still quite early." Vambe does show appreciation for the school: "I don't have to worry about something [bad] happening, which is really reassuring being so far away from home."
Uncertain about how things are going to change in the future, Vambe wants to experience UTM in its full capacity during the in-person winter semester before she decides how to continue.
The Medium hopes that Ruvimbo Vambe makes the decision best for her—whether it's to stay in Ontario or move to British Columbia. We also hope that all the first-year students at UTM can have a positive experience when creating their networks and getting involved with new things (like writing for The Medium)!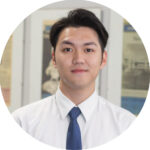 Athletics Correspondent (Volume 48) — Robert is completing a Bachelor of Commerce, specializing in accounting. He has served as a staff writer for two years. Upon completing first year Robert was unsure of which programs were available to him and what to commit his time into. Curious, he took writing courses and began writing short stories on his free time which led him to The Medium. He loves the competition that sports brings and spends his time watching or playing Basketball, Tennis, or Soccer.