Skin Against Our Fingertips
A year without summer,
A night without stars—the constellations aligned,
Perched high above the sky's radiant stunner,
Life without connection is stumbling through the darkness
blind,
Connection, a delicate force of the human heart,
Giving meaning in a world of conformity,
With universality that does not hinder progression, prejudice falls apart,
The distinction between harmony and uniformity,
To see differences between black and white,
And fight for them when inequalities arise,
To respect the wrinkled and those of plight,
And entrust the firm and youthful, without compromise,
To acknowledge ones worn and dirty from labour,
And ones scarred from war,
To love every neighbour,
And to stand up for what you stand for,
Skin connects our bodies, uncloaking our identities,
Molding us into one,
Society's built-in amenities,
An exchange of positivity, where hatred comes undone,
But how do we grasp connection? Is it skin against our fingertips?
Or the belonging inside our hearts?
The yearning to know every inch,
To understand beyond the surface, every part,
The knowledge that hearts beat fast, slow, and divine,
A tender organ that connects us, negating history's wraith,
With an indestructible and ever- winding twine,
Toward intimacy deeper than touch, we are marionettes controlled by faith,
Guiding the world into a new age ahead,
Respecting religions, without being compelled to join them,
The needle and thread,
We are a community, sewn in,
With his turban the colour of marigold,
And her bindi adorned on her forehead proudly,
When chaos and turmoil and conflict are laid to rest, coming in from the cold,
We sit around the fire, hands held profoundly,
More than fleeting moments with passing strangers,
Every human being has shared every breath of air,
Those who have protected us from the world's inevitable dangers,
Share a connection that is as truthful as it is rare,
Where you came from and who you love,
Disappearing in a lackadaisical cloud of irrelevance,
Where there are dreams of peace, the release of the dove,
Married with the rejection of arrogance,
To protect those unfavoured and condemned,
The fallacy of law and order—a realm of shame,
Recognizing the hand of justice lands heavier on them,
Those not on the scoreboard, not invited to the game,
To construct a future where you chant in the howling night's chaos,
"I don't know where you are going, but I want to come along,
And when your shaky raft floats toward the lighthouse,
I'll be sure to leave the light on,"
Human connection is a paradox in and of itself, not just a mess of meaningless greetings,
And for this I am certain,
To be a person is to thrive independently as human beings,
But to be a human is to bask in the independence shared by every person.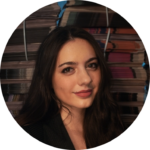 Staff Writer (Volume 48 & 49) —
Paige is in her third year at UTM, currently completing a double major in Biology for Health Sciences and Psychology. She previously worked as an Associate Editor for A&E in Volume 47 of The Medium, and as a Staff Writer in Volume 48. When she is not writing review articles for A&E, you can find her watching rom-coms, writing inappropriate Letterboxd reviews, playing basketball, cruising on her motorbike, and fangirling over the icon that is Taylor Alison Swift. You can connect with Paige through
Instagram
 and 
Letterboxd
.