Polycystic ovarian syndrome: A reflection of what it means to be a woman

Gender bias leads to a lack of research in disorders of the female endocrine system.
I never thought about having kids until I was faced with the possibility that I might not be able to carry any. This year, I had to accept the fact that having children will be more difficult than I anticipated. At 22 years old, my sense of womanhood was challenged when I was diagnosed with polycystic ovarian syndrome (PCOS).
PCOS is an endocrine disorder creating cysts in the ovaries. The exact cause of the disorder is unknown, but those with relatives who have the disorder are far more likely to develop it in their teens. Hyperandrogenism, the excess production of male hormones such as testosterone and androsterone, is the main symptom. Produced by the pituitary gland, this hormone irregularity is the leading cause of other symptoms like missed or irregular menstrual cycles, irregular hormone production, insulin resistance, excess growth of hair, weight gain, acne, oily skin, and infertility. Approximately 1.4 million Canadian women have a PCOS diagnosis. However, estimates of a higher number exist due to the lack of knowledge of the condition, as well as the controversiality of the diagnostic process.
Establishing a diagnosis for PCOS is difficult due to the highly debated diagnostic criteria for the syndrome. A 2010 research paper published in the Canadian Institute of Health Research suggests that the lack of laboratory standards in measuring hormone levels in women may lead to many of them displaying undiagnosed symptoms. "Having an accepted definition is just the first step to unravelling markers of the syndrome's severity and predictors of long-term health," writes Marla E. Lujan, the lead author of the paper. "The remaining and arguably most important steps, in both clinical and research settings, relates to improving the accuracy and reliability of our methods for evaluating features of PCOS."
However, diagnosis of the condition can be done through blood tests as well as ovarian ultrasounds. Although not a life-threatening disorder, a diagnosis can help change someone's life and point to solutions that lessen the symptoms.
When my mother told me she was diagnosed with polycystic ovarian syndrome in her teenage years, I knew that this condition might have a genetic disposition. I searched for ways to identify any symptoms that I saw in myself—but it was hard. Many of the PCOS symptoms are deemed normal for women. In my late teens, I became hypervigilant, observing any changes I saw in my reproductive health.
Like any other disorder affecting the female reproductive system, PCOS is largely understudied and underrepresented. Many women seeking help from their general practitioners for any discomfort felt during their menstrual cycle is brushed off as normal and treated with over-the-counter pain medication and birth control. In a study published in the Academic Emergency Medicine Journal, researchers studied the pain disparities in hospital emergency departments. Dr. Chen Esther, the lead author of the study, concludes that despite sharing similar abdominal pain symptoms, women will wait approximately 33 per cent longer for treatment than men.
I've seen this firsthand with my family doctor, someone I've trusted for years with my health. They previously brushed off my PCOS symptoms and made me believe they were normal. This is where gender bias plays a role.
Gender bias is a form of discrimination based on an individual's gender. According to the Centre for Addiction and Mental Health (CAMH), gender bias is felt by women seeking medical advice. Historically, women have been characterized as hysterical as a response to complaints of pain. In a 2018 study on gender bias in healthcare, researchers found that doctors will characterize women's reaction to pain as being overly emotional, while men experiencing the same pain are viewed as stoic and heroic. Gender bias is a widespread phenomenon in the world of science, with women's research being deemed less valuable than their male counterparts.
Dr. Katrina Hui is a resident physician specializing in Psychiatry at the University of Toronto. In 2020, she published a paper titled "Recognizing and addressing implicit gender bias in medicine." In it, she acknowledged that, although Canada promotes gender equality through medical graduates, women and their research are still widely underrepresented. "The most promising ways to address the complexity of inequities is to design informed multi-pronged strategies to close the gap between advantaged and disadvantaged groups," she said in a recent interview with CAMH.
The danger of gender bias in relation to PCOS is prevalent. Birth control pills or implants are treatments that are often prescribed to women with irregular and painful menstrual cycles, as well as oily skin. In women without PCOS, birth control prevents unwanted pregnancies. In women with PCOS, it regulates the hormone imbalances causing infertility.
In November 2020, I took part in a fertility study at U of T. Equipped with a continuous glucose monitor to track my blood sugar, a Fitbit to observe my sleep patterns, and a daily hormone tracking device, I'm on an ongoing journey towards discovering my body and changing my preconceived beliefs about what it means to be a woman. Soon into beginning the study, I noticed irregularities in my fertility hormone tracker, which I presented to my family doctor. I had finally gathered proof that what I was experiencing wasn't normal.
We live in a world where womanhood is equated with the ability to give birth. Learning about the state of my endocrine system made me question my femininity. I quickly became worried that my long-time partner would be upset for not being able to have children with me, but our conversation about it was one of the most eye-opening experiences I've had about my self-worth.
Growing up, I was led to believe, like many women, that my self-worth lies within my willingness to be a mother. My experience through learning about my body and polycystic ovarian syndrome has helped me change that mindset. My femininity is not tied to my ovaries; it blooms through my creativity and intelligence.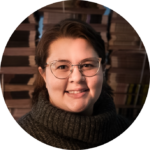 Associate Features Editor (Volume 48 & 49) — A recent graduate from UTM, Dalainey is currently working on completing her post-graduate studies in Professional Writing in Ottawa. She previously served as Staff Writer for The Medium's 47th Volume and as Associate Features Editor for Volume 48. Through her passion for languages, Dal hopes to create a fun and inviting atmosphere for readers through her contributions to the paper. When she isn't working, Dal focuses on developing digital art and writing her first novel. You can connect with Dal on her Instagram or LinkedIn.