Netflix and chill or Netflix and ill?

Is having access to our favourite shows with a click of a button beneficial or harmful in the long-term?
From sitting in front of the TV at home every evening after school, watching commercials in the middle of our favorite shows, to having access to thousands of movies and TV series on any smart device at any time, it is clear that the way we know TV has changed massively.
Since YouTube made streaming popular back in 2005, there has been no turning back. Streaming services have exploded on the internet and are now a multi-billion-dollar industry. In its entirety, the video streaming market managed to pull a revenue of US$59.14 billion in 2021, moving to a projected US$321 billion by 2030. Clearly, streaming is here to stay and is definitely going places. With over 200 streaming companies and three billion viewers and counting, on-demand streaming or VOD (video on demand) gives us total control over content and allows us to pause, rewind, and fast forward with repeated viewings.
But is all this control really good for us? Is it helping us to manage our time better or is it further stimulating our inner control freak, where everything must be done when and how we say it? Are we being spoiled by these options and are we beginning to expect it in all areas of our lives? A vending machine mentality where we refuse to queue and expect everything we want to be given to us right away? Instant gratification or bust.
Technology and content are developing so rapidly that I feel like we are all guinea pigs in a multimedia experiment, and it may be years before we can determine the full extent of the damage. Netflix started releasing entire seasons of television series with House of Cards back in 2013. Did we decide to watch episodes weekly or daily? No way. We proceeded to watch all 13 hours non-stop, emerging only for bathroom breaks or to raid the refrigerator. Cue a new generation of unhealthy couch potatoes.
Moreover, the trend has continued and is now part of our normal viewing habits. Last week, Netflix (yet again) did everything they could to keep us glued to our screens. They introduced worldwide live streaming events with a Chris Rock standup comedy, Selective Outrage. Of course, I had to watch it. I wanted to hear his response to that infamous slap that echoed around the world, but I couldn't help wondering afterwards: are we all being slapped with unhealthy lifestyles and attitudes by having so much access to on-demand streaming around the clock?
We need to face the harsh reality that excessive viewing of these streaming platforms can be hazardous to our physical health. In fact, research indicates that binge watching is associated with a sedentary lifestyle, fatigue, blood and cardiac problems, an unhealthy diet, and decrease in cognitive function.
Furthermore, people who watch content on streaming sites like Netflix, Disney+, and Amazon Prime uninterrupted for hours on end are also vulnerable to adverse mental health effects. A 2021 study published in the Psychology Research and Behaviour Management Journal reveals a strong correlation between increased depression, anxiety, heightened stress levels, isolation, and binge-watching.
So, how can we break the habit of binge watching and better maximize the benefits that online streaming has to offer? Setting a daily or weekly time limit is crucial—so we don't fall into the trap of watching episode after episode when we start a new series. Additionally, we can watch shows with our friends rather than by ourselves, and we can also choose healthier movie snacks to minimize the harmful impacts associated with excessive time spent on these streaming platforms.
While nothing can compare to the convenience and variety of shows offered by Netflix and other streaming services, perhaps we should recognize that the rigid structure of scheduled television is better for our physical and mental well-being in the long term.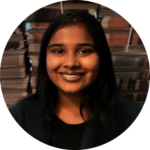 Staff Writer (Volume 49) — Angelina Jaya Siew is currently in her first year at UTM, seeking to specialize in Criminology, Law and Society and minor in French. After completing her secondary education in Trinidad and recently moving to Canada, she started writing for The Medium as a way to to highlight important global issues and encourage debate on controversial topics. When Angelina is not writing or studying, she is reading the latest mystery novel, travelling to different countries, or getting her almond milk vanilla latte at Starbucks.