Mental Health Week in review

The Health and Counseling Centre provides students with various resources and programs to overcome academic and personal challenges.
For this year's mental health week, the University of Toronto is advocating for multiple mental health resources being made available for students and faculty. The Health and Counseling Centre (HCC) at UTM is hosting several events throughout the year to encourage students to access these mental health services on and off-campus.
Hosted by the HCC, the Be Well UTM Fair took place from September 20 to September 24. Ravinder Gabble, the health education coordinator at the Health and Counseling Centre, discusses the fair's success and other resources that benefit current and future students.
"The event had over 480 registrations from UTM students, staff, and faculty members," Gabble says. "Each year, the Be Well UTM Fair aims to provide UTM students and community members with a diverse range of programming to learn tips, skills, and resources for prioritizing their personal health and wellbeing."
Gabble provides feedback from an anonymous participant who attended the fair.
"My favourite part of the Be Well UTM Fair was listening and interacting with Christopher Siu. The insight and advice he provided really resonated with me and encouraged me to continue to pursue my goals and aspirations no matter how difficult it gets. I really liked how he advised to take a step back when things got overwhelming and that all the emotions you go through are part of the process."
The Peer Support Program, also a part of the Wellness at UTM initiative, provides students an opportunity to strengthen their personal and academic goals in a peer-to-peer experience. The program highlights healthy lifestyle tips, academic skills, and community resources for students to access. Further workshops include Discovering Your Wellness, Creating a Wellness Log, Self-Management, and Building Your Mental Health Roadmap.
Students can also participate in the HCC's Wellness at Home Program which "features daily wellness workshops, activities, and resources from Mondays through Fridays." Specifically, the Together Tuesday series consists of weekly wellness-inspired activities and conversations, offering a safe virtual space for students to connect and share strategies and resources.
Another way the HCC is supporting students is by providing them with a Stepped Care approach to mental health care. The center plans to provide a student-centric personalized approach which will enable students to personalize their wellness plans with guidance as needed from HCC staff. Ravinder also mentions that "students who come to the HCC are able to choose from a variety of care options, spanning from self-directed or peer-to-peer health education opportunities to more tailored, one-on-one appointments with health care professionals."
The HCC focuses on ways to support students but also ways to help students develop the necessary skills to cope with issues in their own ways Gabble states, "The Health & Counselling Centre utilizes a stepped-care approach to short-term, solution-focused counseling, physician medical appointments, nutritional counseling, and nursing care."
The HCC enables students to develop personalized wellness plans that cater towards their exact needs with optimal guidance from the staff.
"We all have a role in supporting student mental health at the University of Toronto Mississauga. Students and faculty can bring more mental health awareness by continuing to have open, judgment-free conversations about mental health in our community and promoting help-seeking as a positive strategy for personal, academic, and career success."
Gabble is optimistic about the future of UTM. "Our vision for UTM's wellness programs and initiatives is to cultivate a healthy and supportive campus environment where all students are able to thrive to their fullest. We remain committed to this vision and will strive to continue to bring students innovative events, initiatives, and resources that promote wellness, resiliency, and community."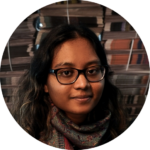 Staff Writer (Volume 49); Associate News Editor (Volume 48) — Razia Saleh is currently completing a Biology degree at UTM. She has been involved with The Medium since 2020 as a contributor and continued to write for The Medium as an Associate News Editor during Volume 48. She hopes that her experience as a writer with The Medium will help her contribute to society's efforts to provide authentic and factual journalistic media to educate her readers. She hopes to take her interest in ongoing research within the scientific field and explore ways to share it with others through this platform. In her spare time, she paints natural landscapes inspired by her travels and enjoy a few live concerts throughout the year. You can connect with her on Linkedin.