Local indie pop-rock band Lost in Japan gains nationwide attention

From the band's beginnings to their upcoming album, Lost in Japan shares their musical highlights with The Medium.
"Why you hiding? Are you lost? I'd search the world despite all the costs," blares Lost in Japan's hit, "Lonely," from radio stations across Canada. London, Ontario's newest rising band boasts a fresh indie pop-rock perspective intertwined with a ramshackle collection of extremely intimate, yet exhilarating lyrics influenced by the sorrowful acceptance of growing up.
The artistry that the four members—Addison Johnson (lead vocals and guitar), Karl Von Estorff (bass), James Wiseman (drums), and Chris Hoekstra (lead guitar and vocals)—bring is honest and youthful, giving their audience a look into the future while clutching onto the past. Their message of this youthful discovery is cognizant of their origin. The band's birthplace can be traced back to where they first met in the bustling hallways of Fanshawe College, all while enrolled in the Music Industry Arts program (MIA).
"Addison, James, [and I] were in the same year, and we started jamming together in the second year of college," Hoekstra explains in an exclusive interview with The Medium. "Karl was a year below us in the same program, and we met him while seeing him at gigs around town."
Creating music has always been the paramount desire for each member. Von Estorff was inspired by Crazy Frog, Wiseman was assigned to drums in the seventh grade, Hoekstra gravitated toward the guitar due to his father's passion for the instrument, and after misidentifying his acoustic guitar in sixth-grade band, Johnson deemed himself a bass player. With these beginnings, each member came together to put their individual talents to good use.
Starting as a solo act, Johnson started the band when he began searching for other musicians to back him up. After playing a couple of gigs for Johnson, the tetrad realized how cohesively they meshed. From there, Lost in Japan united and the rest is history. As for the inspiration behind the elusive band name, Hoekstra says that he could "tell you the real reason, but then all the magic behind it would be gone. We wouldn't want that now, would we?" Despite a lack of explanation, it is satisfying enough for their refreshing sound to pull listeners through the lulls of the pandemic.
In times of Covid-19, Lost in Japan conveys a message that is both relatable and honest. "Our most recent EP, 'Somedays,' is about adapting to change that really flips you on your head, forcing you to decide where to go from there. I feel like everyone can relate to this topic because of the change this global pandemic has brought on all of us," Hoekstra says. "We want new fans to know that our music instills a message of honesty, love, and fun."
One of Lost in Japan's most memorable moments is when their song "Animals," from their debut EP, was selected to advertise the 2019 JUNO Awards. This was not the first time the band has collaborated with the academy. With the hopes of exploring and expanding on new sounds, "Somedays" was produced by JUNO award-winning producer and Fanshawe professor Dan Brodbeck at Sugar Shack Studios in London. Coming full circle, Fanshawe has provided the band with their education and has contributed toward the music to spearhead their careers. And for good reason, as they continually embrace the purity of imperfection, concocting an unending quest for evolution.
The pandemic enabled the band to hit new heights of success. Already making its mark on the Canadian music industry, Lost in Japan quickly asserted itself as a band to watch out for only four years after its formation. With a tight competition of 2,000 submissions, their song, "Lonely," won the public-voted 2021 Corus Entertainment Radio summer song contest, featuring a cash prize of $20,000 and extensive radio time. The band plans to use the award earnings to record their sophomore LP, with its first single "Red Line" released on October 15.
"Lonely" is a spunky hit that has a likeness to the music of the Canadian rock band Arkells; Lost in Japan reveals that their biggest musical inspiration is this Hamilton-formed hitmaker because of their ability to draw from their own personal experiences. It is their biggest hope to one day open for Arkells. Hoekstra says, "I feel like this has been our opener goal for a while!"
Beginning to orient themselves back on stage and performing gigs, the band explains how much they missed the fan and audience dynamic. "The energy from our fans makes it so fun to rock as hard as we possibly can. It feels like the best feeling in the world when we're up there on stage in front of a packed-out venue," says Hoekstra.
To expand their sonic palette, the band is preparing for the release of their aforementioned next album. "We cannot wait for all the fans to hear the different sounds we've been working with," says Hoekstra. "Also, we will be playing more live shows, so keep an eye out for us if we are playing near you!" As listeners await the new album, Lost in Japan still has plenty of songs to get lost in for now. The success of the local band is, to put it plainly, music to our ears.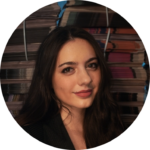 Staff Writer (Volume 48 & 49) —
Paige is in her third year at UTM, currently completing a double major in Biology for Health Sciences and Psychology. She previously worked as an Associate Editor for A&E in Volume 47 of The Medium, and as a Staff Writer in Volume 48. When she is not writing review articles for A&E, you can find her watching rom-coms, writing inappropriate Letterboxd reviews, playing basketball, cruising on her motorbike, and fangirling over the icon that is Taylor Alison Swift. You can connect with Paige through
Instagram
 and 
Letterboxd
.