Lecture Me! On the importance of incorporating Indigenous Studies in the syllabus

Dr. Sherry Fukuzawa and Dr. Nicole Laliberte join Councillor Veronica King-Jamieson in discussing the role education plays in furthering peacemaking efforts between non-Indigenous and Indigenous Canadians.
"It's important that we acknowledge our privilege and give up our seat at the table to spotlight someone who is typically shadowed," states Mississaugas of the New Credit First Nation (MCFN) Councillor Veronica King-Jamieson. On February 1, she presented a Lecture Me! talk regarding the incorporation of Indigenous education in the Canadian curriculum. She was joined by Dr. Sherry Fukuzawa, an assistant professor of anthropology, and Dr. Nicole Laliberte, an associate professor of geography.
Councillor King-Jamieson started the meeting by discussing her involvement with the MCFN community initiative titled "Education for Reconciliation," a program that aims to mandate the teaching of Indigenous history and contributions within the primary and secondary school curriculum. She proceeded to discuss the 2018 symposium held at the University of Toronto Mississauga (UTM) on the importance of Indigenous Education in Ontario classrooms. The symposium, which was hosted by Justice LaForme, an Elder of the Mississaugas of the Credit First Nations, talked about the importance of funding Indigenous education in Ontario classrooms. LaForme stressed that since educational institutions were created by colonial settlers, they are inherently biased towards Anglo-Canadians.
According to LaForme, the only way to completely decolonize education in Canada is to move away from a binary, hierarchical education that overemphasizes the achievements of white Canadians and instead invests in teaching Indigenous studies to students. "Truth is hard. Reconciliation is harder. When you bring an Indigenous person to the discussion, it changes everything," she stated. LaForme further described the importance of partnerships with local Indigenous communities. Mutual respect, equality, acknowledging different ways of teaching, and facilitating progress are just some of the many benefits.
The lecture then delved into the University of Toronto's education efforts regarding this matter. Currently, the UTM Indigenous Action Group has established an equitable and respected partnership between local Indigenous communities and the university. This group demonstrates the importance of Indigenous community engagement in post-secondary institutions. As of 2021, they have made a significant stride in incorporating Indigenous education into the academic calendar.
For the last few years, UTM has been offering ANT241: Anthropology and Indigenous Peoples of Turtle Island (in Canada). This course is a community-based, experiential learning class that focuses on Indigenous identity and the significance of positionality in society. Positionality refers to how differences in social mobility shape our identities and access to the world around us. The course also focuses on Indigenous research including topics such as ontology, epistemology, and axiology. The methodology of Indigenous research, its knowledge, and how to advance it is also discussed.
Students in ANT241 are taught the importance of terminology and asked to reflect on their personal experience, as well as empathize with those who may not have the same privileges as them. They are also asked to evaluate why it is they are taking the course and what they plan on taking away from it. Each week, a different speaker presents a talk to the students about their personal experiences. The course usually ends with a guest lecture by Carolyn King, a former Chief of the Mississauga First Nations. King introduces the Moccasin Identifier Project, an assignment where students focus on respectability, responsibility, and equity regarding Indigenous knowledge. ANT241 is just one attempt to bridge the gap between Indigenous and non-Indigenous students and further peacemaking efforts through education. By taking this course, students are better able to understand intersectionality and their role in allying with and advocating for Indigenous people to continue to reject modern-day colonialism.
The lecture concluded with discussing future steps for reconciliation from an educational standpoint. "We are trying to think about how to make educational change in a meaningful way," concluded Dr. Laliberte. "Our research is focused not solely on documentation, but also testimony from students."
In the future, there must be a collective movement composed of both Indigenous and settler communities. Under the direction of Indigenous communities, educational initiatives should emphasize the importance of funding directly to First Nations while enabling Indigenous Peoples to take ownership of their culture. The burden to educate should not fall solely upon Indigenous elders and community members. Privileged individuals should reach out to Indigenous communities and use their place of privilege to open a window for reconciliation.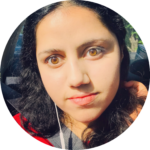 Staff Writer (Volune 48) — Shreya is in her first year at UTM, seeking a double major in business management and English. She hopes to bring attention to worldwide issues and inspire others to change their mindsets through her contributions to The Medium. When she is not writing articles, you can find her sipping coffee and reading, watching classic films, listening to music, or engaging in photography.