I'm Glad My Mom Died uncovers the secrets behind Nickelodeon stars
TW: Eating disorders, OCD, depression, sexual harassment.
Everyone, at some point, craves fame. We crave red carpets, magazine shoots, and glamour. We want big houses, tours, paparazzi, and to meet celebs like Angelina Jolie. We watch movies and TV shows and envy the lives of famous people—wondering why our parents didn't invest in acting classes and dance studios.
In doing so, we overlook the horrifying truth behind being a child star. Pummeled by unwarranted opinions on body image and relationships, and continuously stalked by tormenting paparazzi, child stars are stuck on an involuntary journey of burn-out. They become has-beens that have quit acting "for the foreseeable future."
In Jennette McCurdy's autobiography I'm Glad My Mom Died, the iCarly (2007-2012) child star writes about how her upbringing, filled with physical and emotional abuse, followed her into adulthood and constricted her self-growth and acceptance. Made a victim by her cancer-ridden, manipulative mother, Jennette was forced into acting at the age of six and developed an eating disorder by the age of 11.
Throughout the book, I gasped frequently—my stomach turning and my eyes involuntarily closing at the sight of the more descriptive passages on the abuse. Simply put, this story is not easy to digest. Jennette, the talented writer she is, vividly depicts a life riddled with OCD, anorexia, bulimia, and a guilt-tripping mother. I found myself with her during every stage of her life—from age 11 when Jennette's doctor told her mother she was anorexic, to 18 when she tried alcohol for the first time, to 21 when her mom died. I listened to her attentively, as if she sat right in front of me.
Debra McCurdy, Jennette's mom, forced her four children to sleep on Ikea mats. She encouraged her daughter to weigh 59 pounds at the age of thirteen and then disowned her for having a boyfriend—calling her a "slut." The most ironic part, she verbally abused her daughter and asked for money for a new fridge all within the same letter. The abuse was unclear to Jennette until she began therapy in her mid 20s. I found myself feeling her conflicting emotions.
Despite the horrible parenting, Jennette loved her mom. She sacrificed her childhood—and her adulthood—to please Debra. She hated acting and singing. She hated crying on cue and going to auditions, but she did it all to make her mother proud. She would starve herself, or make herself puke, all so her mother was satisfied with her image. Her contrasting emotions of resentment and love come through clearly. At times, Jennette's mother made her feel like she was achieving a better life—by securing fame and getting rid of financial insecurity. She made Jennette feel like her tortuous attempts to make Jennette "beautiful" were justified.
After 18 years in the industry, Jennette has quit acting and is recovering by investing in her mental health. She declined the opportunity to appear in the spinoff of iCarly, where she would be reunited with long time best friend Miranda Cosgrove.
For anyone who witnessed the Nickelodeon excitement, I'm Glad my Mom Died finally addresses a multitude of secrets and rumours. We learn of the hostile work environment and incidents of sexual harassment orchestrated by the "Creator" of shows like iCarly, Victorious, and Sam & Cat. We learn the truth behind Jennette's rivalry with co-star Ariana Grande, and we finally understand why she passed up on her next big role.
Alongside the content, Jennette's depiction of mental health is extraordinarily personal and deeply involved throughout the biography. Her stream of consciousness gave me glimpses into her struggles associated with her OCD and her eating disorders. The complexity of the novel was multi-layered, well-thought-out, and moving.
Jennette may be glad her mother died, but she still feels pain, sadness, confusion, and guilt for missing her and for hating her. She captures intense, raw emotions in 300 pages, and she does so beautifully.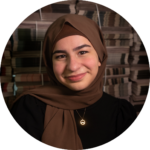 Changing Leaves Columnist (Volume 49); Managing Editor (May–November, Volume 49) — Aia is a fourth-year student studying Psychology and completing a double minor in French and Philosophy. She became a Staff Writer for The Medium in the 2021-2022 publishing year and was determined the team couldn't get rid of her so soon. In her spare time, she can be found café hopping in the hopes to find the best iced chai in the GTA, writing her weirdly complex thoughts down in her notes app, or taking a million pictures a day of her friends. Aia hopes that students find The Medium and feel the sense of belonging she has felt. You can connect with Aia on Linkedin.